Behind an advertising vision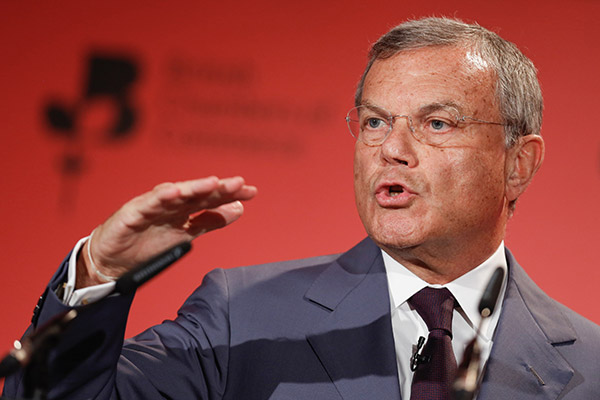 WPP Plc CEO Martin Sorrell gestures as he speaks during the 2016 British Chamber of Commerce annual conference in London, England. [Photo/Agencies]
Martin Sorrell has built an advertising empire on passion and the ability to adapt to a changing world.
The chief executive officer of WPP Plc is still jetting around the skies in his 70s as he keeps a grip on a global group he founded in London more than 30 years ago.
Famous names such as Hill & Knowlton, JWT, Ogilvy & Mather, Young& Rubicam and Cohn & Wolfe make up WPP's family of companies, as well as a host of other international firms.
Roughly 70 percent of Fortune Global 500 businesses are WPP's clients with brands such as Unilever, Ford and LVMH.
"You are never too old to reinvent yourself," Sorrell said. "It's also about being focused, determined and acting with speed.
"(You need to have) passion for the job and you must have a clear strategy, and be efficient in implementing it," he added. "(It's vital to) go after opportunities."
Sorrell's story is spectacular. In the 1980s, he borrowed cash against his Saatchi & Saatchi shares and bought Wire and Plastic Products.
WPP was born in 1985. He then turned this tiny company into the largest advertising and marketing business in the world, and an FTSE 100 Index blue chip brand.
Now, the group is located in 112 countries with China its third largest market.
"Experience and scale are what makes WPP more competitive in the Chinese market," Sorrell said. "You can say we were one of the first global marketing companies to recognize the potential of China."
Still, WPP faces challenges. Lower revenue-growth forecasts have been issued amid a cocktail of uncertainty as traditional media outlets decline and digital advertising continues to rise in the West.
At least, China has proved stable as the group aims to expand its digital services here.
"We are able to borrow certain experiences from the overseas markets and apply them in China, while taking a domestic perspective and empowering our staff to execute on a local level," Sorrell said. "This is the best of both worlds."
In an in-depth interview with China Daily, he talked about the company's strategy, its business prospects and his love of cricket.
How has WPP performed in China during the past year?
Our business has maintained the same trajectory as last year. The traditional consumer and packaged goods business has been fairly even, and I've had clients tell me that we must be doing pretty well if we have maintained the status quo.
The big growth sector would be technology, but generally it has been the same as last year, if not a little better.
What do you think of China's online economy after your visit to Alibaba?
The growth of the digital economy in China has been phenomenal. You have the world's largest base of internet users and e-commerce growth is far greater than any country in the West.
The likely reason is that the economy has leapfrogged from analogue to digital and smart phone in one step.
The extraordinary thing about Alibaba is the scale (of its operations). Huawei, Lenovo and Haier have all understood the importance of technology, and are growing by being technological developers themselves.
Their growth has been impressive and is indicative of the potential of Chinese companies in the years to come.
What are the company's future plans in China and will WPP invest more in digital services?
Digital has always been one of our main growth pillars and an area we will continue to strengthen. Our global targets are to increase our share of revenue from new media to 40 or 45 percent.
In China, we made eight acquisitions in the past five years with the focus on digital and social (media). On the Chinese mainland, GroupM, which conducts media investment management, leads the market in media buying.
We cover channels from traditional to digital platforms. We are able to negotiate the best prices for our clients to ensure efficient spending.
What is your opinion about the Chinese economy?
The growth of the services industry has been helpful to our business. While 2017 is likely to see modest growth, we remain unabashed "bulls" on the Chinese economy.
In 2017, for the first time in the past six years our BrandZ Most Valuable Chinese Brands exceeded multinationals in the Brand Power metric. This is certainly indicative of Chinese brands becoming a force to be reckoned with.
What have been WPP's most influential marketing roles in China?
We were involved with the 2008 Beijing Olympics. You will remember it was China's proud moment of ascent on to the world stage, truly taking its place as a global player.
We were also involved in the 2010 Shanghai Expo, which was an eye-opener for many local families as a way to interact with the world.
The 2022 Beijing Winter Olympics will be another chance to shine for China, especially in the area of sports tourism, as well as reaching out to the world.
What are the differences between the Chinese market compared with those in other Asian countries and the West?
Chinese consumers are becoming more sophisticated and aspirational. They want better things and not necessarily at lower prices.
They are prepared to pay an increased price for better products. They may feel that the brand says something about them, which they think is important and tied to social values as well.
That is where we come in with creativity, technology and research. The best creative minds work for us and they bring fresh ideas to the table. This is backed by research such as market data and findings that ensure you are on the right track and ahead of competition.
Will China's Belt and Road Initiative contribute to the growth of multinationals?
The Belt and Road Initiative will contribute to the future growth of multinationals. The rise of the next middle-class consumers will be from Asia, Latin America and Africa.
China is bringing infrastructure and funding to regions where other major powers may not be as interested in or are not prepared to commit like they used to.
This certainly paves the way for multinationals to work even more closely with China and their partnering nations.
How has globalization benefited your business?
Globalization is a big part of our business and so is our philosophy of "horizontality". This is offering the best resources across our network to clients.
Being in 112 countries worldwide, we now have 49 teams with a dedicated Global Client Leader, each working with almost 40,000 of our people and accounting for more than a third of our revenues. There are 462 clients that we work for, whose businesses span six countries or more.
What does the next five to 10 years hold for WPP?
We aim to increase the geographical share of revenue from faster-growing markets such as Asia-Pacific, Latin America, Africa, the Middle East, and Central and Eastern Europe to 40 to 45 percent of our total revenues.
What does China mean to WPP?
We have grown alongside the country. Now, China is our third largest market with 14,000 people and $1.6 billion in revenue.
Our clients range from MNCs (multinational corporations) to local companies, and represent some of China's best-loved and biggest brands. We have also taken the lead in market initiatives.
What has impressed you about the country?
I was on a train from Hong Kong to Guangzhou in 1989 and that was when I first realized the growth potential of China, as well as Asia.
Since then, the whole Pearl River Delta has grown, along with cities like Beijing, Shanghai, Tianjin and Chongqing. In general, the speed of growth in China is unlike anything I have seen.
What are your hobbies and how do you spend your leisure time in China?
I enjoy playing cricket. When I have time off in China, I like visiting your growth economy companies and speaking with a new generation of entrepreneurs.
CV
Age: 72
Nationality: British
Career:
1985 onwards: Founder and CEO, WPP Plc
1977-84: Group Financial Director, Saatchi& Saatchi
Education:
1966-1968 MBA, Harvard Business School
1963-1966 BA Economics, University of Cambridge
Family:
Married with four children