China becoming leader in big data
Software Alliance will work with stakeholders on privacy, security
China is shaping up to be a world leader in the data policy area, which is expected to help the country boost its IT industry and compete globally, said the top executive of BSA-The Software Alliance, the world's leading software industry trade group.
Victoria Espinel, president and CEO of the Software Alliance, said as there is no international consensus on the issue of data distribution, it would be beneficial for the industry if China takes on a leadership role.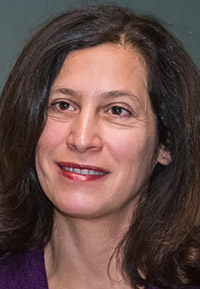 Victoria Espinel, president and CEO of BSA-The Software Alliance. [Photo provided to China Daily]
"Big data technologies, cloud computing, artificial intelligence … none of these things are possible unless data can move 'round in the world,' she said. "China's IT industry has experienced impressive growth in recent years. And I think this is the moment for China to be a leader in this area."
Operating in more than 60 countries globally, the US-headquartered alliance pioneered compliance programs to promote legal software use and foster public polices for technology innovation. Working with governments and public stakeholders globally, its policy team supports companies dealing with digital issues, including data privacy, data security and intellectual property.
Having operated in China for 20 years, the alliance said it would work with the nation in digital trade, security policy and intellectual property issues, aiming to create an environment in which all companies can compete equally.
According to Espinel, there is a need for deeper big data cooperation globally, as it will help set up a system to collectively benefit from the data economy and prevent cybercrime and protect privacy, as well.
"My suggestion for China is to try to be as global as possible. It would be really helpful that China can bring in as much expertise from other parts of the world to get a global perspective in data research and application."
Big data technology is playing an increasingly significant role in boosting global economic growth. It is expected that big data technology will boost global GDP by more than 2 percent year-on-year through 2020, Bai Chunli, president of the Chinese Academy of Sciences, said during the China International Big Data Industry Expo in Guiyang, Guizhou province, earlier this year.
"Big data technologies will involve various disciplines and industries. We should establish an international big data innovation organization, working together on setting regulations, research and development and the application of the new technologies," Bai said.
In 2016, China's core industry in the big-data sector attained a market value of 16.8 billion yuan ($2.5 billion), a 45 percent increase from 2015, according to a recent survey by the China Academy of Information and Communications Technology. And the country is expected to grow big data industry sales to 1 trillion yuan by 2020.
The rapidly growing sector also means new challenges for the protection of confidential data and privacy.
Espinel said Chinese companies not only need appropriate regulations and policies to enable a better privacy environment, but also need to strengthen their awareness of cybersecurity.
She cited a study conducted by the association did previously, which said 57 percent of surveyed chief information officers admitted that they did not do audits of company networks and have no idea of what is on the networks.