Bridging China and Singapore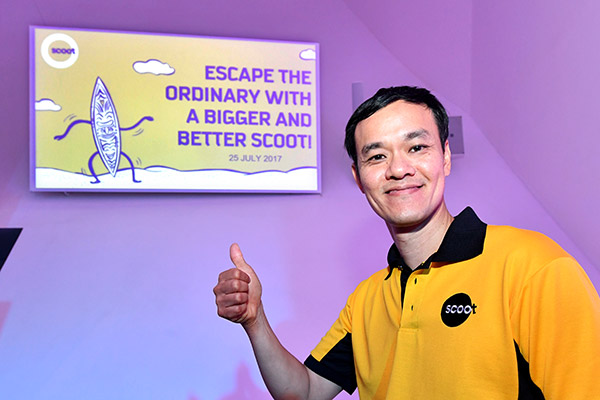 Lee Lik Hsin, CEO of Scoot Airways, soon after announcing the merger of Scoot and Tigerair on July 25, 2017. [Photo provided to China Daily]
When he was appointed CEO of both Scoot Airways and Tigerair, two budget airlines owned by Singapore Airlines, in July, Lee Lik Hsin immediately realized he would have no leisure time. His task was cut out: lead the companies to higher growth targets so as to compete with other established rivals.
After Tigerair was merged with Scoot, the latter announced five new destinations from Singapore, including Harbin in China, Honolulu in Hawaii and Kuantan in Malaysia. Scoot's service network now covers 65 destinations across 17 countries and regions.
"The Harbin service will start this December to enhance our service ability between Southeast Asia and China's northeast region," said Lee.
Harbin will be Scoot's 19th destination in China from Singapore.
Having managed both Scoot and Tigerair, Lee said the new, bigger Scoot plans to add more destinations in the long run. The average load factor for all its flights to China from Singapore are above 80 percent, which is fairly healthy.
"We are seeing healthy customer demand on the flights that used to be branded under Tigerair, after the changeover to the Scoot brand," said the Singaporean executive and father of two. "Scoot will continue to increase overall brand awareness in all the Chinese cities we operate to, on our own and together with our distribution partners."
In 2016, Scoot launched flights to Chinese cities like Dalian, Zhengzhou and Wuxi and diversified sales channels via travel agencies, both traditional and online, to reach more customers. Scoot will now tie up with various tourism boards in China to stimulate inflows of tourists into China.
Supported by more than 2,000 employees, Scoot currently has 14 wide-bodied Boeing 787 Dreamliners and 23 Airbus A320 aircraft.
Lee said the growing number of Chinese middle-class consumers will bring greater opportunities for Scoot. With greater disposable income, demand for leisure travel will increase.
The airline currently flies to many new top- and second-tier cities in China such as Hangzhou, Tianjin, Nanjing, Xi'an, Qingdao, Shenyang and Dalian. It is confident of serving more budget customers who are willing to travel from these cities by offering them attractive prices where they can choose to pay only for the services they require.
An economics graduate from the University of Pennsylvania, Lee said Scoot plans to play a bigger role in advancing transportation services this year for multilateral cooperation in countries and regions participating in the Belt and Road Initiative.
The service, infrastructure and trade network proposed by China in 2013 envisions a Silk Road Economic Belt and a 21st Century Maritime Silk Road. It has been warmly welcomed by over 100 countries, regions and international organizations as it meets their desire for people-to-people exchanges, urbanization, regional connectivity and other new market growth points.
Scoot is the only airline plying the routes of Singapore-Zhengzhou and Singapore-Xi'an, two major cities involved in the development of the Belt and Road Initiative.
Lee said these routes are still new and there is much potential to increase the frequency and capacity, in tandem with the economic development in these regions. Apart from its distribution partners, the airline has teamed up with the local airports to jointly stimulate more travel to and from these cities.
On handling hardship, Lee said it is important to remain calm in the face of adversity. "It allows you to rationally assess your options and plan your next steps to overcome the difficulties. It also helps one to put things in perspective, and with that, learn and grow from the setbacks."
Li Xiaojin, a professor at the Civil Aviation University of China in Tianjin, said direct flights between first-tier Chinese cities and second-tier foreign cities, as well as second-tier Chinese cities and top-tier foreign cities, are expected to grow rapidly in the future, given the significant demand for international travel in China.