Business opportunities hidden in steamed bread in Internet Plus era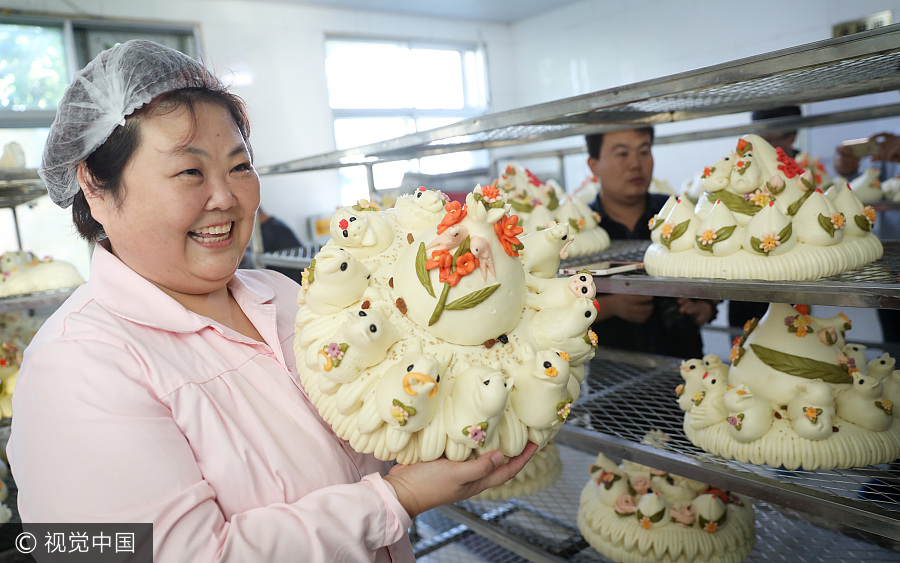 Lin Hong, founder of Chinese steamed bread brand "Jinmaidou", showcases huabobo, a traditional Chinese food in Weihai, East China's Shandong province, on Oct 12, 2017. [Photo/VCG]
Lin Hong, a 46-year-old woman, has found business opportunities hidden in steamed bread in Internet Plus era and generated annual sale of 10 million yuan ($1.52 million) by selling popular Chinese food huabobo in Weihai, East China's Shandong province.
Different from normal steamed bread, huabobo is made in diversified artistic styles and can fetch as much as 300 yuan each.
Lin identified potential business opportunities in this traditional Chinese food with over 300 years' history, which is especially popular during Spring Festival, similar to turkey for Thanksgivings, and launched a business three years ago.
The sale of 7,600 huabobos in the first year of her business gave Lin confidence and she established her own brand "Jinmaidou" selling only huabobo and xibing, another traditional Chinese cake for wedding ceremonies in November 2014.
At the beginning of her entrepreneurship, Lin met many challenges in food preserving and marketing. Gradually, Lin realized that online marketing would be the key to make her business successful.
"(I should) take good use of online marketing so that people all over China can know huabobo in a short period of time," Lin said.
Thanks to e-commerce and online sales, Lin receives a great number of orders from all over China online every day and once she got a big order of 1,000 boxes at one time.
With quick expansion of her business in three years, Lin has established a 1,000 square meters' huabobo production base with over 40 fixed-contract employees.
Currently, Lin's business has about 36 franchisees and 200 agencies all over China and her second factory of 500 square meters has been rented and is under construction.
Lin is confident about her business, which has benefited a lot from the development of China's e-commerce and Internet Plus economy.