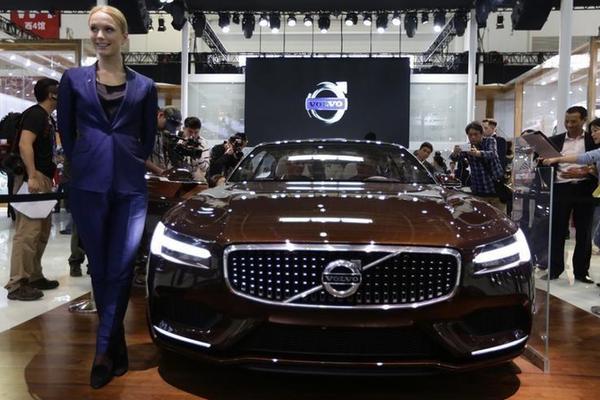 A model poses with a Volvo concept car at Auto China 2014 in Beijing April 20, 2014. China is set to surpass the United States to become Volvo Car Group's biggest market in 2014 with sales of at least 80,000 cars in the world's largest auto market. [Photo/Agencies]
Volvo Car Group plans to export a Chinese-made midsize sedan this year to the United States, and is starting to weigh the possibility of building a vehicle factory in the United States, people familiar with the Chinese-owned automaker's plans said.
Both moves would be significant for the auto industry and Volvo's parent, Zhejiang Geely Holding Group Co So far, global automakers have chosen not to ship vehicles made in China to the US market in any significant numbers, and efforts by Chinese automakers to export vehicles to the United States have foundered.
Volvo is also behind rivals BMW and Mercedes in establishing production in the United States, which insulates the German brands from currency fluctuations.
Volvo might also export a large "strategic, flagship" sedan based on a newly developed underpinning technology, said the executives, who work for Zhejiang Geely. That car would be shipped out of China in addition to the Volvo S60L, a long wheelbase version of the S60 sedan Volvo began producing in the southwestern China city of Chengdu more than a year ago.
The moves are aimed at reviving Volvo's momentum in the US market where volume last year fell 8 percent from 2013 to 56,371 vehicles. The US market, which has long been Volvo's largest market, was replaced by China last year. China bought 81,221 Volvos in 2014, up 33 percent.
More broadly, the moves are part of Geely's turnaround strategy for Volvo which has struggled to go beyond being a brand with an annual volume of less than a half-million vehicles. Thanks to its focus on China where the brand expanded its distribution network and product portfolio, Volvo sales volume is on the rise. It sold a total of 465,866 vehicles globally last year, up 9 percent from 2013.
Long standing goal
"The S60L offers class-leading rear space, something that has been consistently demanded by US customers. It will be made at Volvo's plant in Chengdu, China, and will be on show for the first time at this year's North American International Auto Show in Detroit," said David Ibison, a Gothenburg, Sweden-based Volvo spokesman. "The S60L forms just one part of our US revival plan."
Ibison said Volvo plans to launch seven new products by 2018 and increase US sales to around 100,000 cars a year in the medium term. He declined to elaborate.