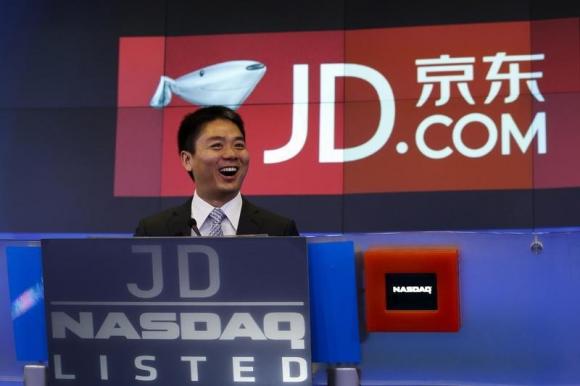 Richard Liu (C), CEO and founder of China's e-commerce company JD.com, smiles before ringing the opening bell at the NASDAQ Market Site building at Times Square in New York May 22, 2014. [Photo/Agencies] 
Chinese auto information website operator Bitauto Holdings Ltd said JD.com Inc and Tencent Holdings Ltd would invest about $1.3 billion in the company.
E-commerce company JD.com and Tencent, best known for its communications app WeChat, will also invest a total of $250 million in Bitauto unit YiXin Capital Ltd.
"The three companies will work together to provide enhanced online automotive transaction services to car buyers across China," Bitauto said.
The two companies will invest about $1.15 billion in new shares priced at $73.31 each. Each share represents one ADR.
JD.com, China's No 2 e-commerce company after Alibaba Group Holding Ltd, will invest $400 million in cash and about $750 million in resources to Bitauto, whose sites offer sales data and other information on new and used vehicles as well as customer reviews. Tencent will pay $150 million for its shares.
Tencent and JD.com will buy YiXin Capital series A preferred shares for $150 million and $100 million respectively.
JD.com and Tencent will hold 25 percent and 3.3 percent of Bitauto's outstanding shares respectively after the deal closes in the first half of 2015. JD.com will also get one seat on Bitauto's board.
The two companies will hold 17.7 percent and 26.6 percent of YiXin Capital respectively.