Chinese firms bid for struggling automaker in US
Updated: 2013-02-20 09:33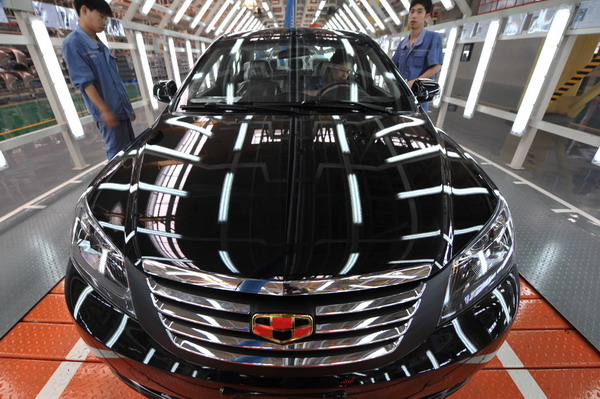 Workers check cars on an assembly line at a Geely production base in Ningbo, Zhejiang province. [Photo / Xinhua] 
Struggling US automaker Fisker Automotive, which makes electric vehicles, is weighing bids for a majority stake in the company from two Chinese firms.
The move comes after the company's founder and chairman Henrik Fisker said in December it was looking for potential strategic partners.
The Anaheim-based hybrid-vehicle maker is looking at bids from Zhejiang Geely Holding Group Co Ltd and Dongfeng Motor Group Co, with Geely appearing to be the preferred suitor, Reuters reported on Tuesday, citing two sources familiar with the deal.
The sources said Geely has sent a team of engineers to Fisker's headquarters to evaluate the company and its technology to make battery-powered electric car's with a small gasoline engine used to extend the car's driving range.
The sources added that both offers, which Fisker received in the past three weeks, were worth between $200 million and $300 million, which would give the suitors a majority stake in the automaker, Reuters reported.
Dongfeng could not be reached on Tuesday, while Yang Xueliang, a spokesman for Geely, declined to comment on the report.
However, Yang said that Geely - whose Hong Kong-listed subsidiary has just signed a 1 billion yuan ($158.94 million) deal for a 50-50 joint venture with Kandi Vehicles to make low-speed electric vehicles - will announce the group's new-energy vehicle plan in about a month.
Fisker had a difficult year in 2012, as it suffered from a series of recalls due to battery, software and cooling issues.
"The new-energy vehicle industry in the US is entering a period of uncertainty as the government will probably block more aid to finance the sector," said Zhong Shi, a Beijing-based expert in the new-energy vehicle sector, who is familiar with Fisker.
"That will make investors in the sector, mostly venture capital firms, retreat from those troubled automotive players as soon as possibly."
"Chinese companies' strong interest in Fisker is a result of the Chinese government's encouragement to develop alternative-fuel vehicles in a bid to ease the country's strong reliance on imported oil and reduce emissions."
"The purchase or control of mature new-energy companies in the United States can provide ambitious Chinese companies with a shortcut in the sector," Zhong added.
According to Reuters' report, Fisker's leaders and their advisers believe that Geely is "more serious" and "passionate" about the company and its technology.
Also in Geely's favor is the fact that the company acquired Swedish luxury car brand Volvo in 2010 and that it probably can move faster in its decision-making process than State-owned Dongfeng.
However, Zhong said that he believed that the Wanxiang Group, which bought Fisker's bankrupt primary battery supplier A123 Systems last year, could also be a suitor for Fisker.
"A Wanxiang executive previously indicated its intent to help support Fisker, which it sees as its most important customer. If Wanxiang were to win the deal, it would stand in the frontline of the extended electric-vehicle sector in China, with complete control of core technologies for both battery and vehicles," said Zhong.
As European and Japanese automakers are not familiar or interested in extended plug-in hybrid technologies, Chinese bidders have more chances to win the Fisker deal, Zhong added.
lifangfang@chinadaily.com.cn