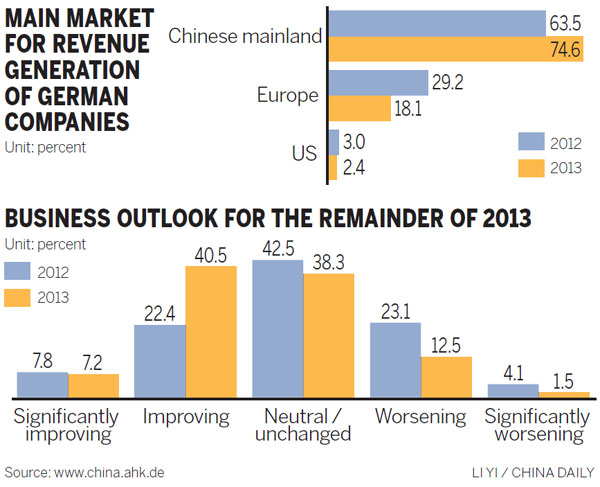 Despite China's economic slowdown, German companies operating in the nation expect increased profits and sales this year, according to a survey released on Monday.
Finding qualified employees remained the biggest challenge, in addition to concerns in the protection of intellectual property, the survey by a German business organization found.
"The interviewed German companies generally held that the economic environment this year will significantly improve from last year," Joerg Mull, chairman of the German Chamber of Commerce in China and executive vice-president of the finance department of Volkswagen (China) Investment Co Ltd, told a news conference on Monday.
"Companies in South China and Southwest China are especially optimistic and Chinese exports are somewhat picking up after a two-year slowdown."
In the survey, 47.7 percent of German companies, compared with 30.2 percent in 2012, held a "significantly improving" or "improving" business outlook for the remainder of 2013.
The expected improvement in South China and Southwest China jumped to 50.7 percent from 19.6 percent in 2012, outstripping the 17-point increase in East China and the 6.9-point rise in North China, according to the survey, German Business Confidence 2013.
The annual survey, conducted from May 13 to June 7, received responses from 502 companies, or 22.8 percent of the chamber's 2,200 members in China.
"German companies have specialized know-how, especially those in the public safety and environmental protection fields. They adopt long-term development strategies in China," said Rolf Koehler, vice-chairman of the German Chamber of Commerce Shanghai, at a news conference in Shanghai on Monday.
Up to 69 percent of the surveyed companies anticipated higher turnover in 2013, compared with 65 percent in 2012 and 67 percent in 2011.
Also, 54 percent of the companies projected profit increases in 2013, slightly higher than the 53 percent that had this outlook in the past two years, according to the survey.
Only 8 percent of the companies, in contrast with 12 percent in 2012 and 17 percent in 2011, envisioned profit increases of more than 25 percent.