Wanda Group chairman explains what makes him tick and how he perceives the future for his company, industry and the nation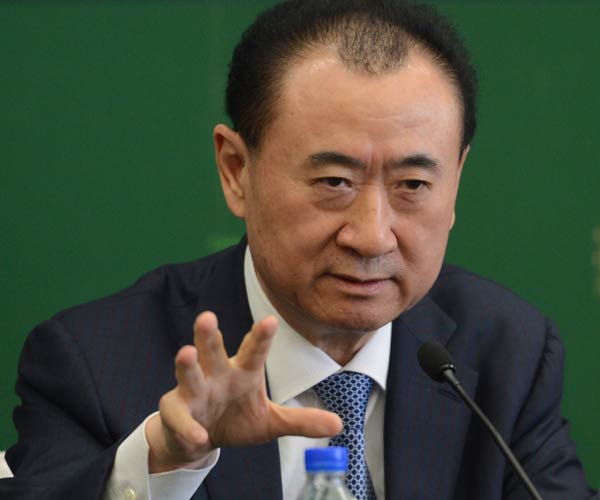 Wang Jianlin, chairman of Dalian Wanda Group and the richest man on the Chinese mainland. [Photos Provided To China Daily]
Wang Jianlin, chairman of Dalian Wanda Group, became the richest man on the Chinese mainland, according to the 2015 Forbes Billionaires List, which was released in March. Wang also overtook Li Ka-shing as the richest tycoon in Asia with personal wealth of $38.1 billion, according to Bloomberg data on May 1. The 61-year-old Wang spoke to the Beijing News recently at length. Following are excerpts from the interview:
On being the richest person in China
Many people often wonder what is a typical day for a person like you?
Contrary to what people may think, I spend the whole day working. I get up at 6 am and reach the office by 7:10 am and usually return home only at 8 pm. When I am held up with conferences or banquets, I reach home after 9 or 10 pm. I go to bed at 11 pm.
What has been your most expensive purchase recently?
I ordered three suits, each worth over 20,000 yuan ($3,225). This is my most expensive purchase so far this year.
What do you think made you the richest man in Asia? Was it opportunity or luck? Or it is just an inevitable outcome?
I attribute it to three factors: My own industriousness and strategies, the accelerated urbanization in China and Wanda Group's initial public offering, which expanded the company's wealth.
Will overseas investment become Wanda Group's top priority in the future?
China will still be the top priority for Wanda Group. If the group's revenue could reach $100 billion by 2020, I hope 30 percent, or at least 20 percent, of the earnings will be from overseas.
Being a Chinese entrepreneur who grew up after the nation's reform and opening-up, did you ever think of becoming the richest man in the world?
I am striving toward that goal. But more importantly, I want to prove something for Chinese enterprises and entrepreneurs, rather than showcase my personal wealth.
What do you want to prove?
All of my efforts have been to prove that Chinese enterprises can do well on the global stage. Wanda Group will surely be among the top 10 or 20 companies in the world by 2020. I have also pledged to donate most of my wealth to philanthropic causes.