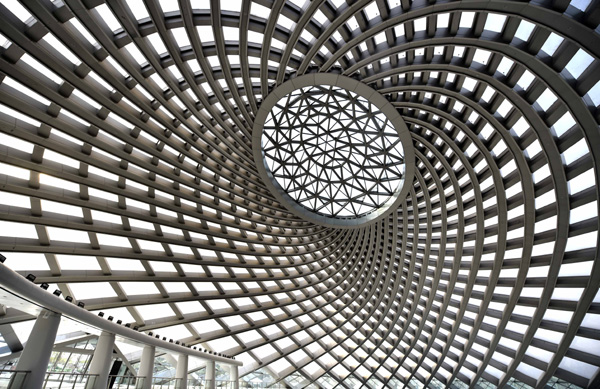 Yujiapu station, the final stop of the extension line of the high-speed intercity Beijing-Tianjin railway, is under construction at the heart of the business district in the Tianjin Free Trade Zone. When the rail link is put into operation in August, it will take only 45 minutes to travel between the business districts of Tianjin and Beijing. [Photo/China Daily] 
FTZ status to increase growth in Hebei by attracting State-owned firms and companies with global presence
Tianjin, a coastal city in northern China, aims to use its newly established status as a free trade zone to boost its economic links between Beijing and Hebei province.
The 120-square-kilometer China (Tianjin) Pilot Free Trade Zone opened last month, and comprises Tianjin port, an airport and a central business district, all located in the Binhai New Area.
City officials hope the FTZ will act as a "testing ground" for the national strategy to boost economic ties between Beijing and Tianjin by developing the surrounding areas.
Liu Jiangang, director of Tianjin's commission of commerce, said the city will further upgrade its financial, logistics, healthcare and tourism sectors as part of the Beijing-Tianjin-Hebei economic circle.
The plan includes allowing foreign companies greater access to the service sector.
Tianjin also has improved transport links to attract State-owned enterprises, multinationals and large financial institutions.
A high-speed railway connecting Beijing, downtown Tianjin and Yujiapu, the heart of the city's business district in the FTZ, will start in August.
When the rail link is put into operation, it will take only 45 minutes traveling between the business districts in the city and Beijing, according to Zheng Weiming, deputy director of the management commission of the FTZ in Tianjin.
"Part of Beijing's service sector could be transferred to Tianjin's FTZ as it will help solve the problems of over-crowding in the capital and benefit Tianjin's own development," Zheng said.
China CITIC Bank, one of the country's biggest lenders based in Beijing, decided to set up the headquarters of a subsidiary-CITIC Financial Leasing Co Ltd-in the central business district of Binhai News Area, Tianjin.
The CITIC financial leasing company has a registered capital of 4 billion yuan ($647 million) and was attracted to the city because of its favorable policies, Li Qingping, president of the bank, revealed.
Sheng Bin, a professor of Nankai University in Tianjin, said the financial service sector in the city has grown considerably with the rise of new businesses such as financial leasing, equities investment and venture capital funds.