Xi has crucial role, Davos founder says
President Xi Jinping's participation at the World Economic Forum's annual meeting in Davos, Switzerland,"is quite relevant to the theme of the forum, which is 'responsive and responsible leadership'", said Klaus Schwab, the event's founder and executive chairman.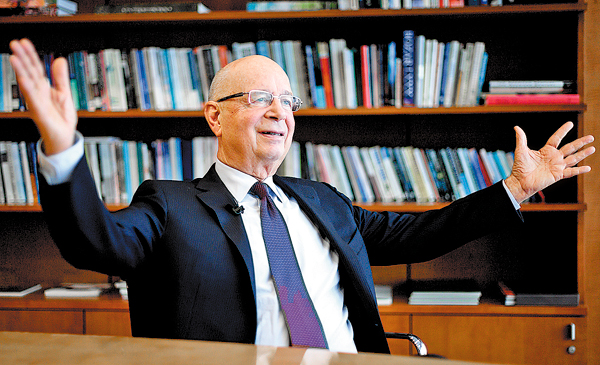 Founder and Executive Chairman Klaus Schwab of the World Economic Forum gestures during an interview last week in Cologny, Switzerland.  [Photo\Agencies]
"I foresee that President Xi will show that China will play a positive role in global affairs at the forum," Schwab said in an exclusive interview with China Daily.
In his opening speech at the forum on Tuesday, Xi is expected to share his views on global affairs with world figures in attendance.
"The world is now in transition into a multipolar geopolitical and economic structure, and China now equals the United States in terms of economic power," Schwab said. "China is an emerging superpower, and we expect the country to play an increasingly active role as a responsive and responsible global leader."
The world is already seeing that happen, he said, in catalyzing support for environmental protection through the Paris climate agreement, championing international trade and investment, supporting development and expanding the digital economy.
Schwab said the forum's annual meeting will include many discussions on how China's economy is adjusting to serve consumers, supporting innovation and upgrading its industrial base, as well as the country's global role.
"But participants also want to know more about China, and Chinese leaders," he said. Top Chinese business leaders like e-commerce innovator Jack Ma and real estate mogul Wang Jianlin also will attend.
"And as China becomes better known for its innovative strength, we expect Chinese expertise to play a greater and more visible role in many critical areas, whether in infrastructure development, clean power or the internet of things, to name just a few," said Schwab. The internet of things refers to networking devices, buildings and other objects.
Schwab said the forum also is interested in innovative approaches China has taken in infrastructure finance and trade. These include the New Development Bank established by the BRICS states-Brazil, Russia, India, China and South Africa-and the Asian Infrastructure Investment Bank, the Belt and Road Initiative and the proposed Asian free-trade agreement called the Regional Comprehensive Economic Partnership.
He said these moves highlight "the importance that global governance holds for the collective health of our international community" and the importance of "China's willingness to contribute to a fairer, more prosperous and sustainable planet".
Schwab also noted the important economic partnership between China and Europe-one-third of China's outbound investment goes to Europe every year-which he said benefits both sides.
While political changes have created momentum for protectionism, he said it's still clear that when it comes to economic development, as with all other global challenges, international cooperation is the best way to create the greatest benefit.
"This does not mean that globalization should be allowed to develop without any intervention," Schwab said.
Globalization has created an imbalance between winners and losers within countries, he said. Meanwhile, the forum has argued for more than 20 years that market mechanisms need to be created to ensure greater social inclusion and human development, Schwab said.
"It is my deep desire that at this year's annual meeting, we will be able to advance ideas and solutions that deliver such a new, more human-centric model for growth and development."