Top 10 Chinese regions with most innovation patents
Beijing tops the list of Chinese cities securing highest number of patents per 10,000 people in the country, according to government figures.
The State Intellectual Property Office (SIPO) said with 76.8 patents Beijing takes the crown, followed by Shanghai, 35.2 patents per 10,000 people, and Jiangsu province, 18.4.
It added that the average number of innovation patents has reached 8 per 10,000 people in the Chinese mainland.
"Eighty-five percent of the patents were filed in sectors such as telecommunications, computing, digital communication and audiovisual technologies," said the authorities.
Based on the statistics of the World Intellectual Property Organization, the total volume of China's international patent applications ranked sixth around the globe in 2016.
Gong Yalin, head of planning and development division of the SIPO, said there's still a large gap between developed countries and China when it comes to applying for international patents.
He added that China has still fallen behind in such industries as optics, engine, transportation, semi-conductor, audio-video technology and medical technology.
Here's a look at top 10 cities that secured highest number of patents in the country.
No. 10 Shandong province, 6.3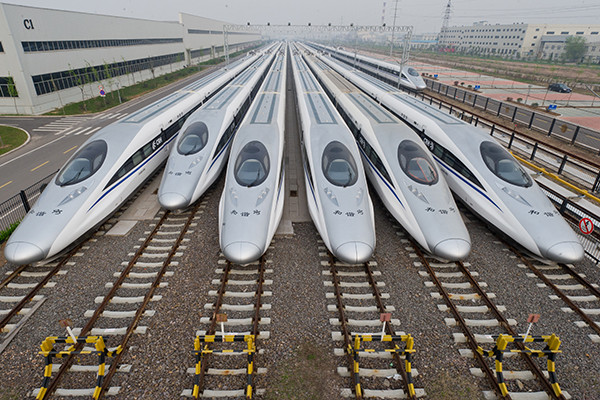 Rakes of high-speed train CRH380A lined up at Qingdao, Shandong province. [Photo provided to China Daily]