China to launch carbon emissions market this year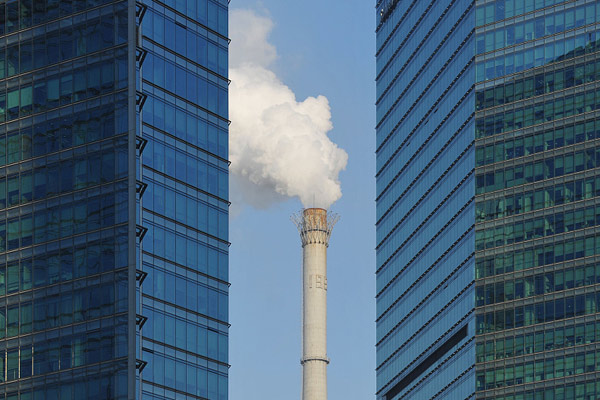 Smoke spews out from a tall chimney in Beijing, Dec 18, 2013. [Photo/VCG]
China's National Development and Reform Commission plans to establish a national carbon-trading system and launch a carbon emissions market this November, according to a report by Scientific American.
The NDRC said in its report a carbon emissions quota control system will be applied to manage the cap-and-trade program covering companies with an annual energy consumption of more than 10,000 tons of standard coal in the petrochemical, chemical, building materials, iron and steel, nonferrous metals, paper, electricity and aviation sectors.
In addition, a state and local two-level management system for the emissions market will be set up, the report stated.
"The carbon market will develop gradually as a continuously improving system," Jiang Zhaoli, deputy director of the Department of Climate Change, was quoted in media reports. "Judging from the estimating quota allocation of the eight sectors, the emissions are expected to reach 5 billion tons, half of the country's total emissions. It will make the market the biggest in the world."
The Commission said a national carbon-trading market that will improve the system, activate trade and have strict regulation and transparency will be developed by 2020.
Since June 2013, China has piloted carbon emissions trading in seven provinces and cities, including Beijing, Tianjin, Shanghai, Chongqing, Shenzhen, Hubei province and Guangdong province.
"With more than 2,000 companies involved in the pilot carbon-trading system, the total trading volume reached 160 million tons and the trading value rose to 3.7 billion yuan ($553 million) as of this May. The performance rate of companies in the pilot areas was nearly 100 percent," Ma Aimin, deputy director of the National Center for Climate Change Strategy and International Cooperation, was quoted by Jiemian.com.
In 2009, China promised at the Copenhagen climate change conference to cut its carbon emissions per unit of GDP by 40-45 percent by 2020 from 2005 levels. In June 2015, it set a target of peaking its carbon emissions by 2030.
"It is a common and urgent task for all countries to adopt strong and effective policies and actions for tackling climate change and speed up low-carbon transition," Xie Ji, an inspector at the Department of Climate Change said, Jiemian.com reported.
Xie said that as a responsible developing country, China has actively participated in the global climate governance and promoted the establishment of a fair, cooperative and win-win global climate governance system.
According to the China Carbon Market Research Report released by United Nations Development Program, if carbon trading tools are established, the scale of China's carbon transactions will reach at least 100 to 120 billion yuan after 2020.
"Currently, the European Union has the world's biggest carbon-trading system, but China's emissions market being established is more than likely to replace the EU to become the world's biggest one," Vicky Pollard, environmental counselor in the EU delegation to China, told 21st Century Business Herald.