Chinese tourists head to Africa to escape heat wave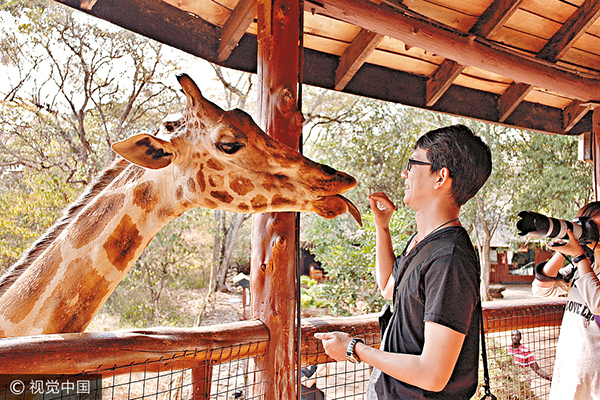 A man feeds a giraffe at a zoo in Kenya. [Photo/VCG]
Africa is one of hottest destinations for Chinese tourists this summer.
With a video of an African man saying the temperature in China was too high and that he wanted to go back to his hometown to "bishu" (means run away from heat wave) going viral, the topic of "go to Africa to bishu" is buzzing.
Some Chinese said they were considering going to Africa to run away from the scorching sun.
During this year's summer holiday, the number of people who pre-booked travel to Africa nearly doubled from a year earlier, according to online travel agency lvmama.com.
Chinese tourists aged between 25 and 40 and earning well are the main visitors to the continent.
Mauritius, Kenya, Morocco, South Africa and Tunisia are the most popular African countries among Chinese tourists.
This summer, many Chinese cities' temperature hit or exceeded 35 degrees Celsius.
However, because some African countries are in the Southern Hemisphere, and eastern and southern African countries are at an altitude of over 1,000 meters, the temperature there is lower than in China in summer.
Thanks to the Belt and Road Initiative, the air routes between China and African countries are increasing, and some African nations have eased the visa policy to attract more Chinese tourists.
In 2008, the number of Chinese tourists visiting Africa only accounted for 3 percent of total outbound tourists, but last year, the figure rose to 10 percent with 11.3 million Chinese traveling to Africa, news website Cankaoxiaoxi.com said citing data from World Tourism Organization.
The website citing African media said the spending power of Chinese tourists is 40 percent higher than that of European visitors.