Healthy approach to business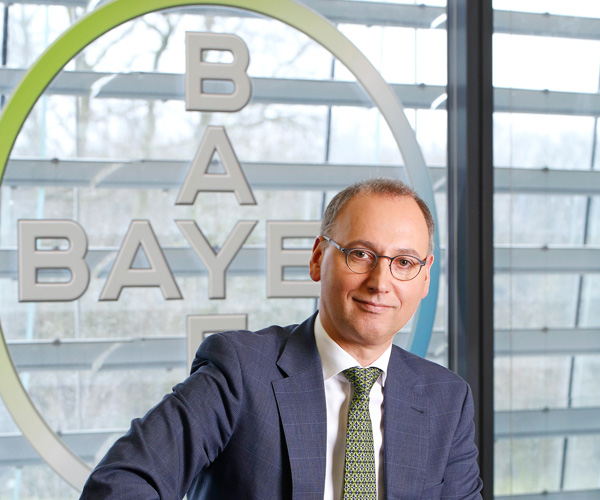 Werner Baumann, CEO and chairman of the board of management at Bayer AG. [Photo provided to China Daily]
Innovation appears to be embedded in Werner Baumann's DNA. It is part of his makeup and the driving force behind Bayer AG's philosophy in China.
As CEO of the sprawling German multinational life sciences company, the 55-year-old is committed to change. He also respects tradition.
"It is always nice to come to China and see how fast things are evolving and developing in the country, and in our group," Baumann said.
"We have been in China since 1882, and our future growth prospects are closely linked to the market," he added.
During the next five years, Bayer will continue to invest in pharmaceuticals, crop science and consumer health.
By 2020, the company will have injected 1.4 billion yuan ($207 million) into its manufacturing plant in Kunming, Yunnan province. Eventually, this will become a global hub for traditional Chinese medicine and Western-style pharmaceuticals.
"Our aim is to ensure access to healthcare products," Baumann said.
Bayer is comprised of around 301 consolidated companies in 78 countries across the world, with its global headquarters in Leverkusen, Germany. The group has about 115,000 employees worldwide, according to its website.
Annual revenue in China was more than 5 billion euros ($5.85 billion) in 2016, while the company's global sales in the second quarter were about 12.2 billion euros, a jump of 1.9 percent compared to the same period last year.
"Pharmaceuticals posted sales growth of 4.4 percent to 4.3 billion euros," the group's corporate website stated.
Looking ahead, Baumann told China Daily about his hands-on approach, the company's plans here and his love for Do-It-Yourself, or DIY.
How do you visualize China's economic future?
The country has set 2020 as the target year to realize the "centenary goal" of building a moderately prosperous society (in an all-round way). This involves doubling its 2010 GDP (gross domestic product) and the 2010 per capita income of urban and rural residents by then.
In order to do this, China must maintain a steady medium-to-high rate of economic growth, while prioritizing better quality and more sustainable expansion.
With an increasing and aging population, it will be a challenge, both globally and in China, to ensure an adequate supply of safe, nutritious food, and access to healthcare products.
How do you assess Bayer's prospects here?
We have invested in China during many years and have an extensive footprint here. The country is the world's second largest economy, accounting for more than 30 percent of global economic growth in 2016.
We are confident we will be able to seize market opportunities in accordance with our business strategy and the needs of Chinese society. Our product portfolio and solutions are well suited to help generate sustainable growth.
What are your company's plans in China and for the group globally?
We believe that innovation and the ability to adapt quickly to a changing external environment are crucial drivers to invigorate and enhance economies. It will also help us stay competitive.
Our mission, "Bayer-Science for a Better Life", puts innovation at the heart of our company. We innovate to meet our customers' and patients' needs, and to adapt to fast-changing circumstances. Therefore, China's push for more innovation fits our business and market positioning.
What is your business philosophy?
There are two things. First, always do what is right and be fully committed and confident when opportunities arise. Always manage risk responsibly.
The second point, in business and in life, is you must surround yourself with people you can trust. That is absolutely essential.
At Bayer, I am blessed and very grateful for the trust that I have been given, and for the fantastic people that I have the privilege to work with.
How do you plan to develop markets related to the Belt and Road Initiative?
The Belt and Road Initiative is exciting and bold. Since it was proposed in 2013, China has made progress in achieving its aim of building a trade and infrastructure network to connect Asia with Europe and Africa along various ancient trade routes. We believe that more connectivity and exchanges between countries will generally create opportunities for economic and social growth. Bayer has been engaged in China since 1882, and our future growth prospects are closely linked to the market here.
What is the secret behind your business success in China?
I would have to say deep knowledge of the market here and the ongoing commitment to the country even through difficult times. You need the ability to anticipate trends and market developments, as well as key government initiatives.
You also have to roll out innovative product portfolios and customized solutions that meet the needs of Chinese consumers. A strong leadership team guarantees the strategy's implementation and helps achieve the company's goals.
We have qualified and passionate employees in China.
What is your biggest achievement in China as CEO of Bayer?
There are many areas in China which allow us to make a real contribution to the welfare of the Chinese people. One big trend is the shift in focus of the country's economy toward innovation and entrepreneurship. This suits Bayer as innovation is at the heart of our company.
We use advanced technology at our production sites in China. For example, the 100 million euros expansion of our pharmaceutical packaging plant in Beijing features industry-leading manufacturing efficiency, robotics, automation and digitalization.
Also, an oral multi-kinase inhibitor for the treatment of metastatic colorectal cancer and gastrointestinal tumors was launched in China this year. In the agribusiness, Bayer has rolled out nine new crop protection products in the country, covering rice, corn, wheat, vegetables and fruits between 2015-16.
More recently, we introduced a traditional Chinese medicine product, which we produce at our plant in Kunming.
How do you get along with local partners?
We have long-term relationships with leading institutions and universities in China, including a strategic collaboration program with Peking University to promote translational research in drug discovery.
We also have a research program with the Shanghai Institute of Organic Chemistry of the Chinese Academy of Sciences in the fields of new synthetic methodology, natural product derivatives and organometallic chemistry.
There is, of course, a research agreement with the Shanghai Institutes for Biological Sciences to improve wheat yields. Other partnerships involve our e-commerce connections and startups through our digital health incubator program.
How do you motivate your international team?
Our employees have tremendous opportunities at Bayer. We also embrace diversity and have aspirational targets in terms of gender and nationality.
I also want to mention Bayer's employer brand, "Passion to Innovate-Power to Change". This indicates that if you have the passion to innovate, we will give you the power to change.
What is an effective leadership strategy for running a company in China?
Bayer is well positioned for the future and has the ability to address long-term challenges in society. At the same time, we can take advantage of related business opportunities in China.
What is needed to support success in this market is innovation, cutting-edge products and technologies, as well as relentless customer focus and strong governance.
How do you cope with setbacks?
Life is never plain sailing. You will always face hardships and challenges. They are simply parts of life. Naturally, the same applies to the development of companies.
First, you must understand market trends. The market is changing and you should be brave enough to challenge the status quo and try new things.
Second, you need a strong team to further expand the business, based on joint expertise and experience. Third, reliable partnerships are also necessary. And, you should always focus on the customer.
What are your hobbies and how do you spend your weekends?
Frankly, when I'm not on business trips, I simply enjoy spending time with my family. We live in Krefeld, a town near Dusseldorf. It is actually my home town where my parents used to have a bakery. Now, I am passionate about crafts and Do-It-Yourself. Whenever something needs to be repaired in the house I do it-except electrical issues.