Pride and Passion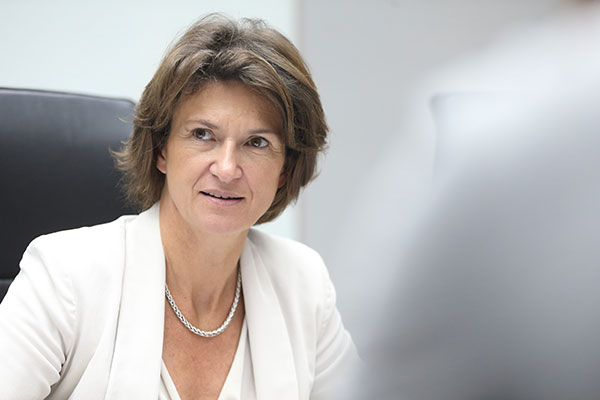 Isabelle Kocher, CEO of French engery company Engie Group. WANG JING / CHINA DAILY
The head of Engie Group manages to balance a home life, expand the French energy group's global footprint in China and run an NGO
Isabelle Kocher has five children, is the first female CEO of an energy company in France and has a passion for all things green.
To many in the industry, she is a real life Wonder Woman, although she would probably disagree with that description.
"Energy is the basis for everything-education, health protection, and economic and social progress," said Kocher, CEO of Engie Group, which specializes in natural gas, renewable energy, digital technology and electricity development.
Energy is her passion along with her family. She drives a hydrogen-fueled car and runs a non-governmental organization, the Terrawatt Initiative, to help communities in remote villages across the world access clean electricity.
Oh, and she also loves playing the piano. "When I'm at home, I practice with my children," she said.
But visits to China have put those sessions on hold as Engie explores business opportunities here. The global energy services group operates in 70 countries on five continents and has more than 150,000 employees.
Last year, Engie reported worldwide revenues of 66.6 billion euros ($76.7 billion).
"China is becoming more important to Engie," Kocher said during a visit to Beijing. "We are very ambitious about what we can do with local stakeholders."
In a far-reaching interview with China Daily, she talked about the European group's vision and strategy in China, as well as her business philosophy and her interest in sculpture.
How does China fit into your global business strategy?
We are very excited about the Chinese market and we are working on a lot of projects here. Engie has decided to focus all its resources, investment, skills and time mainly on three sectors: renewable energy, the natural gas industry chain and energy efficiency services.
Our vision could be described as 3D-decarbonized, decentralized and digital. Decarbonized means the use of renewable energy combined with gas. We believe the future will be based on gas plus renewable energy.
Decentralized means that in the future a lot more energy will be produced at the site where it is consumed. Digital means that all the management and operations systems in the future will be based on digital technology.
This strategy has been positive for Engie's activities in China, as it is in line with the central government's energy vision to build a clean, low carbon, safe and efficient modern system.
To realize our 3D strategy, we are investing about 22 billion euros in these sectors worldwide between 2016 and 2018. We are also selling about 20 percent of Engie's assets, which are not in line with the 3D vision, including coal and oil businesses.
Will Engie increase its investment and expand its presence in China?
We aim to invest about 1 billion euros in China in the future. We have already identified four key sectors for investment and expansion.
They are renewable energy, green mobility, district heating and cooling in cities, and biogas. I believe the future is bright for Engie and China.
We have skills and solutions that have been implemented in many other countries, and we can bring that experience to China.
For example, the country is pursuing green transport. We have built more than 50,000 charging stations for electric cars in the world.
We hope to provide smart charging and management systems of green vehicles here. China is also the largest market for solar energy.
In April, Engie acquired a 30 percent stake in Unisun (Energy Group), a Chinese solar photovoltaic (PV) developer.
We are also assessing several more opportunities and will continue to increase investment in the Chinese market. We will focus on clean, renewable energy and digital solutions with our local partners.
What kind of challenges do you see here?
We have a lot of options and work with a great deal of Chinese companies. Now, the key thing is to find good partners and develop a working relationship on a large scale.
What kind of role do you think China should play in dealing with global climate change?
A few weeks ago, 19 of the G20 countries, including the European Union nations and China, reaffirmed their strong commitment to the "irreversible" Paris climate agreement.
Indeed, China is already a world leader in dealing with global climate change. The country has made its plans known with its declared goal of peaking carbon dioxide emissions by around 2030 or earlier.
It also aims to increase its share of non-fossil sources in its primary energy consumption to 20 percent, while reducing carbon intensity by between 60 percent to 65 percent from 2005 levels. China has the chance to embrace a sustainable economic growth model, which will benefit its people, and become a shining example for other countries to follow.
What business opportunities might arise through China's Belt and Road Initiative?
We have a lot of partnerships outside China with domestic companies. For example, we work in Brazil with Chinese players in major projects. The Belt and Road Initiative can be seen as a way to advance globalization and open up trade.
As an energy company with strong worldwide footprints, we are following the Initiative with interest. And we would love to explore potential collaboration projects with Chinese companies not only here but in third-party markets, which are part of the Belt and Road Initiative.
Since you work in renewable energy, do you have a "green" lifestyle?
Yes, I drive a hydrogen-fueled car in France and I believe green technology is the future.
As the chairwoman of the Terrawatt Initiative, how does green energy change lives?
The Terrawatt Initiative is a global non-profit organization, or NGO, designed to implement a new energy mix. There are between one billion and two billion people in the world that have no access to energy. And that means they have no access to development, to education or health systems. So, we have put together projects to help people access energy.
For example, there are hundreds and thousands of small energy plants that struggle for finance, as most of the funding usually goes to big operations. To help them, we created a bridge so financiers could work out funding issues.
As a female business leader with five children, how do you balance your work commitments with your family life?
The best training I had was being a mother of five children. In terms of time management, it is important not to believe that you can do everything yourself. As a leader, my role is to understand what is happening around us and what are the key challenges.
You have to have a vision and create conditions for people around you, so they can succeed and deliver. I am there to inspire and then to delegate.
You believe in gender equality at Engie. Why is it important to diversify the workforce?
From an efficiency point of view, diversity is key to the internal system of the company. The internal community of Engie has to reflect the community of our clients, that is, to be a mirror of society.
So, gender diversity is essential, as is generational diversity and cultural diversity. Again, we should be a mirror image of our clients in China. Right now, one out of every three senior managers appointed by Engie is female.
How do you spend your time when you are not working? Do you have hobbies?
Mostly I am with my family and children. I also have quite a lot of hobbies. I like sport and I used to swim a lot. I also love playing the piano. In fact, I practice with my children whenever I get the chance. Another major interest is sculpture. I try to go to exhibitions and museums . . . I am fascinated by sculpture.
CV
Age: 50
Nationality: French
Career:
2016 onwards: Chief Executive Officer, Engie, previously GDF Suez
2014-16: Deputy CEO and Chief Operating Officer, GDF Suez
2011: Chief Financial Officer, GDF Suez
2009: Managing Director of Lyonnaise des Eaux, subsidiary of Suez Environment
2007: Chief Operating Officer, Suez Group
2005: Senior vice-president in charge of performance and organization programs, Suez Group
2002-05: Vice-president in charge of strategic overview, Suez Group
1999-2002: Industrial Affairs Advisor to the French prime minister's office
1997-99: Director of the Postal and Telecommunication Budgets.
Education:
1987: Graduated from Ecole Normale Superieure
1991: Graduated from Mines Paristech engineering school
Master Degree in Quantum Optics. Postgraduate certificate in Physics.