Chinese outbound tourists spent 100b yuan on Spring Festival holiday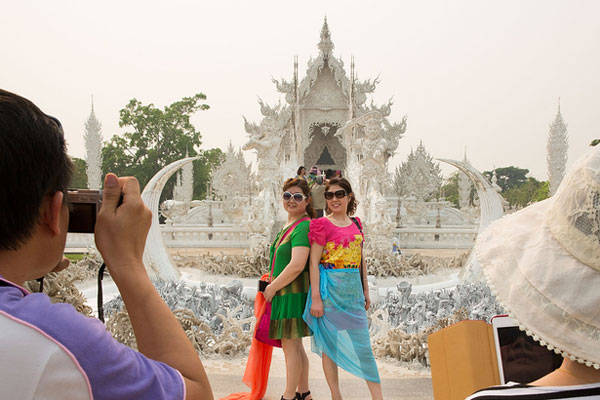 Chinese tourists pose for a picture at Wat Rong Khun, known as the White Temple, in Chiang Rai province, Thailand, on Mar 19, 2015. [Photo/VCG]
China's Spring Festival holiday, long accepted as a time for family reunions and traditional celebrations, has become a "global Golden Week" in recent years as an increasing amount of Chinese choose to travel overseas during the holiday.
China Tourism Academy and the travel website Ctrip said in a joint report that Chinese tourists made 6.15 million outbound trips, up seven percent year-on-year, and spent 100 billion yuan ($14.5 billion) during the holiday lasting from January 27 to February 2, according to a report by chinanews.com.
Travel website Tuniu.com said among the 1,254 overseas destinations in 85 countries and regions Chinese tourists traveled that week, Thailand was their favorite, attracting nearly 25 percent of Chinese outbound tourists in that period, followed by Japan.
In addition, five of the top 10 most popular destinations were Southeast Asian countries, including Thailand, Singapore, Indonesia, Vietnam and Malaysia.
Nha Trang, the beach city in Vietnam, thrived due to Chinese tourists during the holiday. Over 80 percent of the overseas tourists it received that week were Chinese.
As islands in Southeast Asia were crowded with Chinese tourists chilling out on the beach, the Antarctic also witnessed increasing Chinese tourists, who reach the far southern land by icebreaker. A trip to the Antarctic could cost more than 50-60 thousand yuan during the Spring Festival.
Chinese tourists are big spenders while they travel abroad. Ctrip said they spent 2,174 pounds ($2721) per capita on shopping in the UK during the holiday, 3.5 times as much as tourists from other countries.
Chinese outbound tourists departing from Shanghai and Beijing were the biggest buyers during the holiday, spending 10,380 yuan and 10,196 yuan per capita respectively.
Tuniu.com said the top three Chinese departure cities of outbound tourism over the week were Shanghai, Beijing and Nanjing, followed by Tianjin, Shenzhen and Hangzhou. Second-tier and third-tier cities such as Suzhou, Wuxi and Shenyang also generated great outbound tourists during the Spring Festival.
In 2016, 122 million Chinese traveled overseas and they spent $109.8 billion in total, which made China the world's largest country for overseas tourism for four consecutive years, according to China National Tourism Administration.