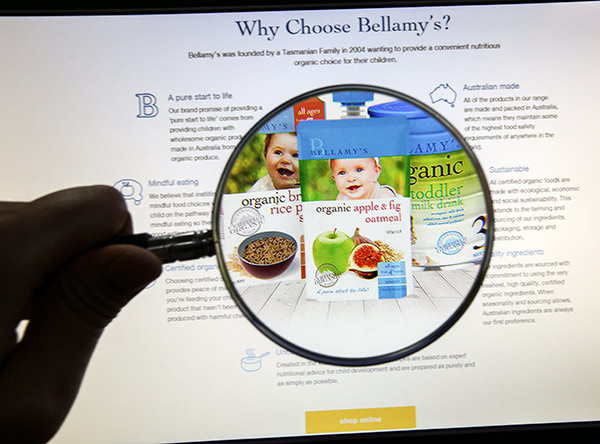 A potential buyer reads advertisement for Bellamy's organic baby formula. [Photo/China Daily]
Strong demand from China for its organic baby formula boosted sales in the mainland for food and beverage company Bellamy's Australia Ltd, which soared in its full year to end June by 331 percent on the previous year, the group reported on Friday.
Revenue from China last year totaled more than a quarter of global revenue, said the company, formerly known as Tasmanian Pure Foods Ltd.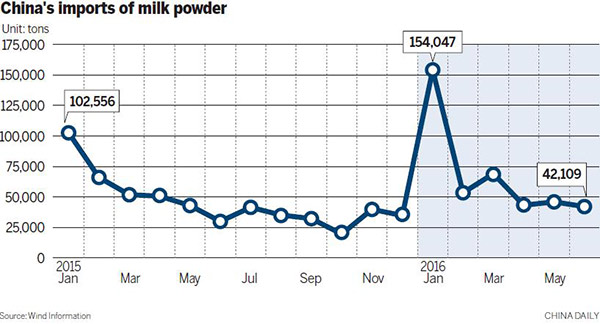 The Australian baby formula maker-which is also a producer, supplier and marketer of organic baby food-saw revenue from China climb to $62 million last year, according to its annual report for 2016, released on Friday.
Sales in Australia, its biggest single market, surged 67 percent year-on-year to $179 million. Its home market took up 79 percent of the company's total revenue, but the company said many products sold in Australia made their way to China eventually.
Total group revenue for the year came in at $245 million, a 95 percent increase on the previous year.
The company posted gross profit margins of 45.7 percent, compared with 32.9 percent for the previous year, boosted by price rises in the domestic market and a positive impact from its e-commerce flagship store in China.
Bellamy's said the growth of its Chinese business came from an ongoing shift toward online sales of imported infant formula products from third-party website platforms such as Tmall, JD and VIP, with delivery to consumers through free trade zones in China and local Chinese providers.
In the bricks-and-mortar side of the business, the company has more than 30 distributors with its products stocked in more than 2,000 stores across China.
The brand has less than 1 percent of the overall China market but had about 3 percent of the online business at the end of June.
CEO Laura McBain said the group started a brand building partnership with BabyTree, a leading parenting website in China, to improve its brand awareness and penetration. The plan is to increase marketing investments to further build its brand and distribution presence in China.
McBain said the company's strong branding relied on organic milk, which has less than 1 percent of the global milk supply market.
She said the company will further expand its organic product offerings in China.