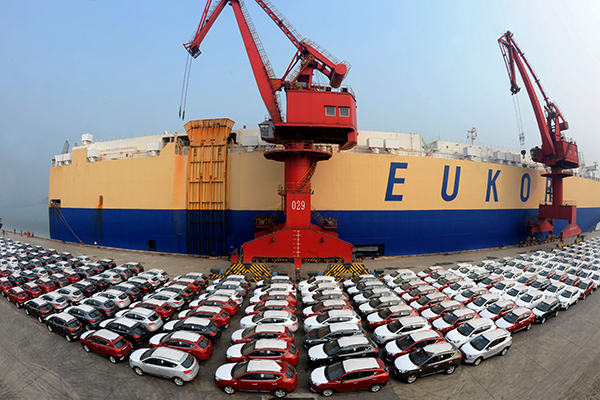 Rows of Chinese automobiles are lined up in Lianyungang Port, Jiangsu province, in January, waiting to be shipped to Brazil. [Photo/China Daily]
China's full-year exports are likely to see a bigger drop than last year as downward economic pressures remain in place, a senior analyst at a government think tank said on Friday.
"Besides weak external demand, the country is suffering a hard time now," Long Guoqiang, deputy director of the Development Research Center of the State Council, told a news conference in Beijing.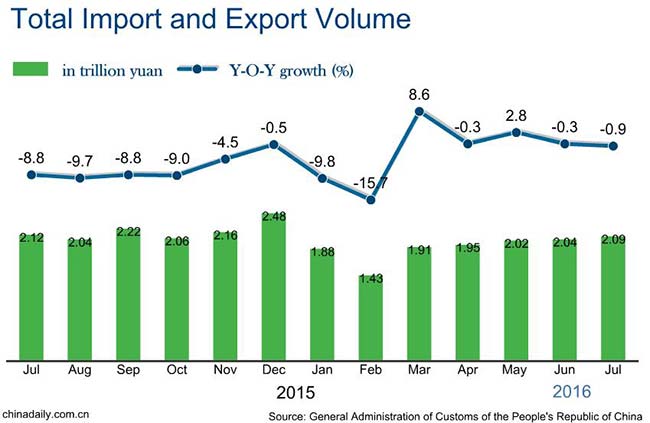 He indicated traditional advantages enjoyed in previous years, such as relatively low-cost labor-intensive manufacturing industries, were losing traction in a weaker global economy while emerging advantages from expansion of the country's high-tech sector are still evolving.
"Export growth will remain slow in the coming years," Long said.
China's exports dropped 1.8 percent last year to 14.14 trillion yuan ($2.14 trillion), while imports plunged 13.2 percent to 10.45 trillion yuan, according to data from the General Administration of Customs.
That was the first time China saw declines in both exports and imports since 2009. In the first seven months of the year, exports were down 1.6 percent and imports decreased 4.8 percent.
An economist said that seasonal trends, shown in the GAC data, indicate that total yearly exports will be down even more in the remaining part of the current year.
In the January-July period, foreign trade was 3 percent lower than a year earlier.
Long said, however, the structure of China's foreign trade was getting better and the long-term outlook was promising.
Long said the development of new business formats such as cross-border e-commerce and buying from international markets, as well as the increasing number of exports with independent intellectual property rights, all showed structural upgrades.
Assistant Commerce Minister Zhang Ji told the news conference that China still retained its global leading position on trade in goods, with a rise in the global market share of its exports from 11.2 percent in 2013 to 13.8 percent in 2015.
"After three decades of high-speed growth, we should treat the issue more objectively and rationally," Zhang said.