Qingdao special: International Beer Festival bottles formula for fun
By Xie Chuanjiao ( China Daily )
Updated: 2016-08-13
| | | | | | | | | |
| --- | --- | --- | --- | --- | --- | --- | --- | --- |
|   | | Print | | Mail | | Large Medium  Small | | 0 |
As an important port city and economic hub, Qingdao is also home to the Tsingtao Brewery and China's largest international beer festival. Every year, the festival welcomes millions of domestic and foreign visitors.
This year, there will be four sessions at the 26th Qingdao International Beer Festival, in Laoshan, Huangdao, Licang, and Pingdu, which will highlight different elements of Qingdao, including the mountains, ocean, city and villages.
The festival is expected to create a citywide beer extravaganza for millions of participants, according to the organizers. Below are the activities each session of the festival will offer travelers and beer aficionados as they descend on China's leading celebration of the brewer's art.
Laoshan
Laoshan, host district for the festival since 1991, openS this year's celebrations on Saturday at Century Square. Festivities will run through August 28.
With seven tents and one square beer garden, there will be many themed activities such as a Brands Day and a Family Day, with special promotions to facilitate sales and offer discounts to revelers.
The Beer King drinking contest will continue to generate excitement among both competitors and spectators. Thanks to his exploits, the five times Beer King - Ren Guangchao - with wins in 2005, 2007, 2012, 2014 and 2015, drove away a new car as his prize on each occasion.
In addition to nightly shows, the Beer Culture Experience Museum will host lectures about beer, brewing activities and a beer culture exhibition.
Huangdao
The Huangdao session lasts 32 days from July 29 to August 29 at Golden Beach and seven satellite venues including the Sino-German Eco-Park, Rio Carnival and Mangrove Tree Resort.
At the main venue, the largest beer tent occupies 5,000 square meters and can cater for 3,000 thirsty visitors.
As well as the beer, robots take center stage at the Huangdao session, as they wait on tables and sell beer to enthusiastic patrons.
At the opening ceremony of the event, 1,007 robots performed for more than a minute, and set a Guinness World Record for the largest robotic synchronized dance routine.
With the mountains and sea as a backdrop, a large outdoor historic drama named Building Dreams at Langyatai has already drawn lavish praise from audiences.
Langyatai is a historical site in Huangdao where many legendary figures worshipped the sea, including China's first emperor Qingshihuang and also Jiang Ziya, an ancient military strategist who helped topple the Shang Dynasty (16th century-11th century BC).
The drama includes many of the legendary events that are believed to have happened at the site.
Many breweries that attended Munich's Oktoberfest and the Fringe Festival in Adelaide have set up booths at the festival so patrons can come and sample their offerings.
Licang
With the opening ceremony of the 2016 Rio Olympics held on August 5, the Licang beer festival opened a day later. The Licang session lasts through August 28 at the Qingdao Horticultural Expo Park.
To celebrate both the games and festival, organizers have arranged special Olympic general knowledge quizzes, featuring beer as prizes. Special discounts are offered for every gold medal won at the Games by the Chinese team.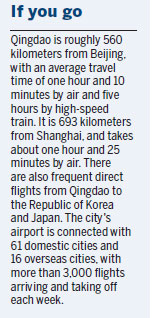 Featuring an eco-beer festival, visitors at the Licang session can relax and drink with friends while taking in the intoxicating aroma of flowers, leaves and grass. Average negative oxygen ions per cubic centimeter in the area can reach 3,300, the event's organizers said, while the standard for fresh air is 1,500, according to WTO guidelines.
Spread across 200,000 square meters, the expo park features five beer tents and two open beer gardens ready to welcome beer lovers. There are also various shows including celebrity impersonations, musical dramas, and magic and acrobatics shows. A variety of carnival games are also available, adding to the general sense of merriment.
Pingdu
As a county level city in the north of Qingdao, Pingdu officially became one of the four sessions of the Qingdao International Beer Festival this year, and festivities run to August 21 at Shengshuifujin Park.
Visitors can indulge themselves at a 1,000-person beer bash, tour the No 3 Brewery of Tsingtao Brewery Co Ltd, the largest of the group's breweries, savor different snacks from China's many regions and provinces and buy local farm produce.
The city has already been certificated as a national-level demonstration area for Protected Geographical Indication Products. Some of its best farm products include Dazeshan grapes, Majiagou celery, Pantao ginger, Pingdu peanuts and Pingdu beef.
Agricultural tourism is one of Pingdu's pillar industries, and as a result, numerous tours will run during the beer festival.
At the Dazeshan vinery, a tent hotel and an recreational vehicle camp have been set up for out-of-town visitors. There are also many fruit and vegetable picking activities to help visitors embrace nature and support local organic agriculture.
xiechuanjiao@chinadaily.com.cn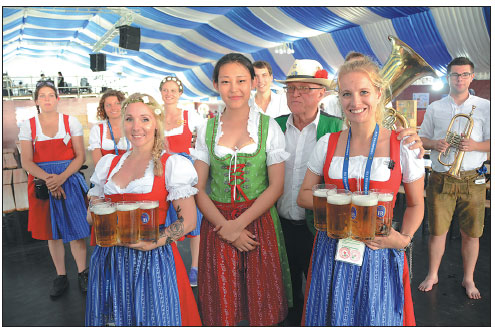 Working staff dressed in Bavarian-style costumes greet guests at beer tents at the Huangdao session of the 26th Qingdao International Beer Festival in Qingdao. Photos Provided To China Daily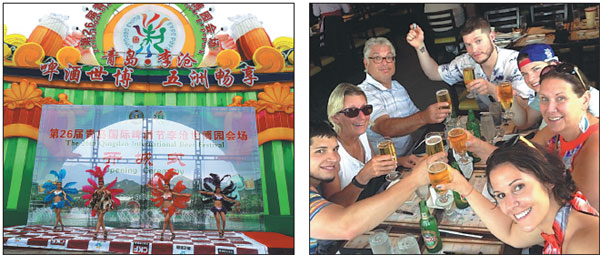 Left: The Licang session of the beer festival opened on August 6 at the Qingdao Horticultural Expo Park. Right: Foreign visitors revel at the Laoshan session of the 26th Qingdao International Beer Festival.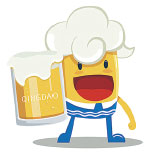 (China Daily 08/13/2016 page12)