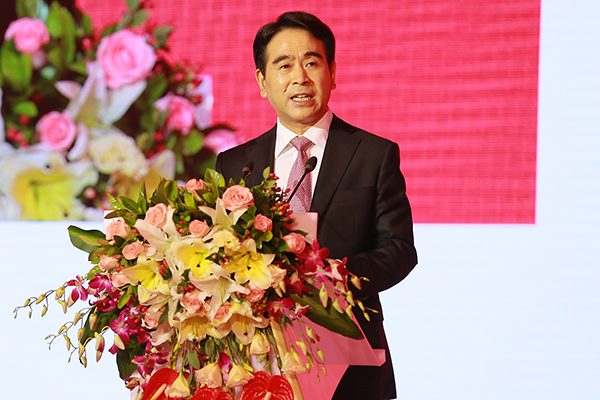 Shen Renkang, chairman of China Zheshang Bank, announces its development strategy in Beijing on Aug 18, 2016. [Photo provided to China Daily]
China Zheshang Bank Co Ltd announced on Thursday its strategy to keep up with cutting-edge internet and financial technologies, launch innovative products and improve efficiency through refined management.
The national joint-equity commercial bank based in Zhejiang province on the eastern coast of China aims to become a mid-sized bank with the most distinguished features in terms of competitiveness by 2020, said its chairman Shen Renkang.
As of the end of June, the bank's loan balance to emerging industries with strategic importance, such as energy saving and environmental protection, next-generation information technologies, and high-end equipment manufacturing, rose 45 percent from the previous year to 16.48 billion yuan ($2.5 billion).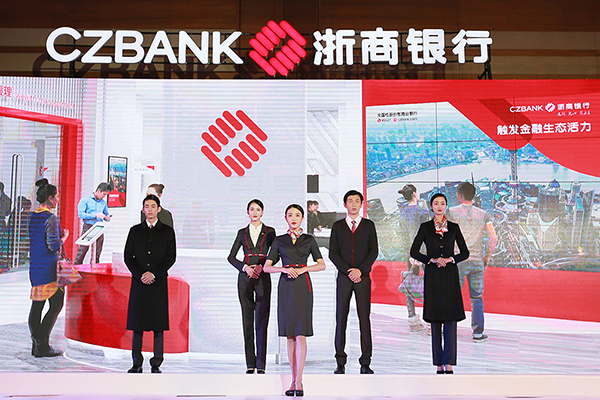 China Zheshang Bank displays new branches and staff uniforms in Beijing on Thursday. [Photo providedo to China Daily]
For the companies that have excellent growth potential and plan to get listed, the bank provided investment advisory service jointly with loans. It also strengthened cooperation with private equity firms on designing personalized financial cooperation plans for corporate clients from different sectors, with different business models, and at different stages of development.
Yin Jianfeng, deputy director of the National Institution for Finance and Development, said unlike the old economy, the new economy is driven by innovations and based on internet technologies, with the market playing a decisive role in resource allocation.
He said under the new economy, banks are acting as intermediaries of information and capital in a broad sense including human, material and financial capital. Intellectual economy requires banks to aim at innovation and efficiency, instead of simply pursuing the speed and size.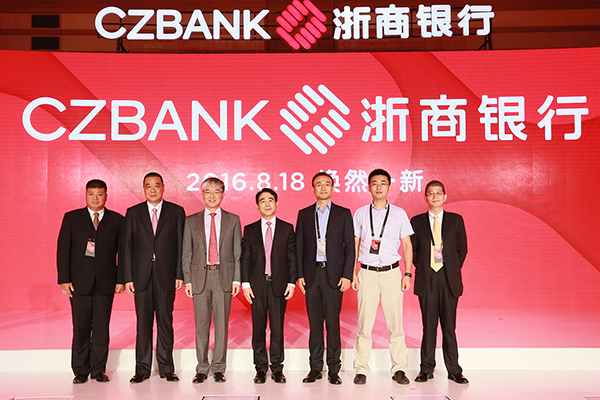 China Zheshang Bank launches a new logo and announces development strategy in Beijing on Thursday. [Photo provided to China Daily]
Liu Xiaochun, president of Zheshang Bank, said on Thursday: "During a transition to the new economy, commercial banks have begun a competition in the inner value of brand and cultural connotations, rather than competing on a lower level in the areas of network, size, price and technology.
"As commercial banks, we need to redefine our financial production methods, mobilize multiple resources, and use more diversified financial instruments and products to satisfy the demands of companies during the entire process of their development."
Jean-Pierre Lacroix, president of Shikatani LacroixDesign Inc, a multidisciplinary branding and design firm that designed new branches for Zheshang Bank, said, "We learned that the banking platform needs to evolve into a hub of both conventional banking and digital services, as part of an ecosystem of which the customer could be at the center. This is important because customers are looking for a comfortable banking experience that provides them confidence in making the right financial decisions for today and well into the future… This leads us to develop a new Zhesheng Bank branch that leverages holistic, agile and vibrant banking."
The bank will open two new branches in Hangzhou, Zhejiang province, and Chengdu, Sichuan province, at the end of this month, in addition to a flagship prototype opening in Beijing in November 2016.