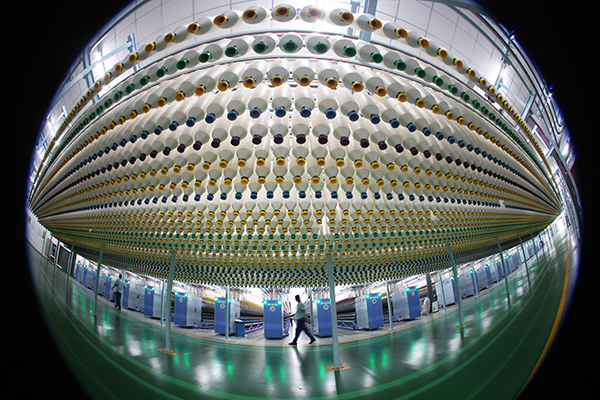 The smart manufacturing facilities in Jiangsu Dasheng Group Co Ltd, a textile company in Nantong, Jiangsu province. [Photo/China Daily]
The sheer scale of the Chinese market gives the country an edge to develop smart manufacturing, the global chairman of the professional services firm Deloitte Touche Tohmatsu Ltd said.
But to succeed, David Cruickshank said, companies not only need to upgrade their systems but also have to extend the scope of smart manufacturing to the entire business.
His comments come as the central government is pressing ahead with the Made in China 2025 initiative to encourage companies to apply automation to build more intelligent manufacturing solutions that rely less on labor. It also encourages customization of goods, instead of focusing on mass production.
Globally, there are several versions of smart manufacturing: Germany's Industry 4.0 route starts from integrating hardware and software for the manufacturing process and leveraging Internet while in the United States, the concept of Industrial Internet refers to the integration of complex machinery with sensors and software.
Cruickshank said it is important to tailor each market with different approaches, taking account of current supply chain and infrastructure.
"There are many concepts ... To me the essence is it allows manufacturers to get very close to their end users and to have consumer input into what is being manufactured.
"The direct connection bears implication for distribution networks. For example, in the United Kingdom where I am based, high-street retailers are struggling (due to smart manufacturing)," he said.
China's biggest strength, according to Cruickshank, is its absolute scale. The huge market means the ability to scale up and respond to consumer trends quickly when you have hundreds of millions of consumers, he said.
"The scale of the market gives people opportunities to experience different models... Experimenting different models can happen very easily in China."
Lawrence Chia, CEO of Deloitte China, agreed, noting that most multinationals have competed each other in the Chinese market to experiment various techniques.
Data show Chinese manufacturers are indeed embracing smart manufacturing with enthusiasm. Industry output value of China's smart manufacturing was about 1 trillion yuan ($153 billion) in 2015 and is expected to exceed 3 trillion by 2020, with an average annual growth of 25 percent.
A 2015 Deloitte survey showed 23 percent of the enterprises interviewed have begun to extensively apply intelligent devices in production, up from 11 percent in 2013.
But a closer look shows applications concentrate in the auto, construction machinery and power equipment industries. Only 20 percent of enterprises are constructing smart manufacturing systems and even fewer have extended the scope of smart manufacturing to value chain integration and business model optimization.
Beyond devices, it's important to invest in systems such as basic IT platforms like enterprise resource planning, Cruickshank said.
"You have to have good systems so that good data could come out of it."
Sitao Xu, chief economist with Deloitte China, said that massive supply of scientists and engineers is a strength of China. But he noted that the challenge derived from the strength of market of scale, could also be a stumbling block.
"Because smart manufacturing is manufacturing in demand. At some point the advantage of size could be less pronounced. Chinese manufacturing in the past has relied so much on scale-up and cluster effect. The very essence of smart manufacturing perhaps require less of that," Xu said.