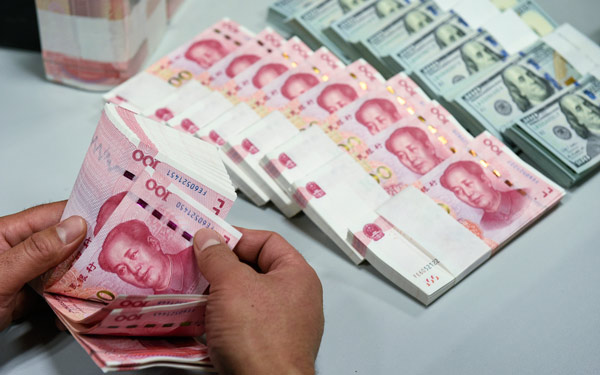 China's venture capital deals hit $34 billion by the start of December 2015, more than double the total for all of 2014. [Photo/China Daily]
BOAO - By removing systematic blocks and adopting new technology, China will be able to expand access to financial services to all people, according to experts at the Boao Forum conference.
Recent changes by China's rural and private financial institutions will help relieve obstacles to inclusive finance, which have held back the nation's anti-poverty efforts, according to experts at the 2016 Annual Conference of the Boao Forum for Asia, held in China's island province of Hainan.
Inclusive finance in the spotlight
With a bad loan rate of 88.3 percent, Hainan Rural Credit Union, a rural credit cooperative in Hainan, was on the verge of collapse in 2007. Over the past nine years, the cooperative has focused on rural microcredit, lending a total of 23 billion yuan ($3.5 billion) to Hainan's 600,000 rural households. The non-performing loan rate has dropped to less than 2 percent.
Thanks to financial education and agricultural training provided to borrowers, Wu Weixiong, board chairman of Hainan Rural Credit Union, isn't worried about the 23 billion yuan in loans his cooperative has made to the island's rural population.
"Our staff are experts in both finance and agriculture, which enables them to help farmers acquire necessary knowledge and techniques to make a living and pay back the loan," he told attendees at the "Inclusive Finance" Boao sub-forum.
Private financial institutions are also making financial services much more accessible to people who are underserved by traditional banks. Ant Financial, a financial arm established last June by the E-commerce giant Alibaba, has lent a total of 45 billion yuan to farmers, online merchants, restaurant owners and mom-and-pop stores, extending loans to 800,000 borrowers who have trouble accessing financial services.
Despite the efforts, a large proportion of the population still lacks access to financing, according to the experts.
Not all have access
"The core of the problem is that inclusive financing is badly needed by rural people," said Dong Wenbiao, board chairman of China Minsheng Investment Corp Ltd, the nation's largest private equity firm.
The nation still has 55.75 million impoverished people in rural areas, official statistics showed.
Dong blamed "serious systematic deficiency" for the problem, saying that China's existing financial establishments, including the banking and insurance systems, don't support expanding access to finance. Large banks are inclined to lend to big companies with lower risk.
The lack of an individual credit system, high operational costs and risks, and the absence of an information-sharing mechanism have all worsened the situation, according to Li Yang, vice director of the Chinese Academy of Social Sciences.