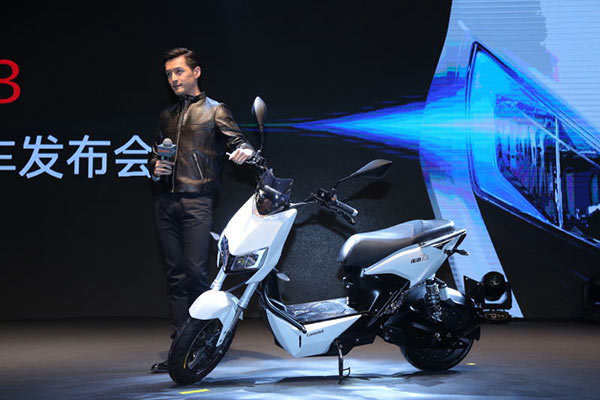 Chinese actor Hu Ge poses with electric scooter Yadea Z3, manufactured by Yadea Technology Group Ltd, for a picture during the product's launch ceremony held on March 24, 2016 in Shanghai. [Photo provided to chinadaily.com.cn]
More smartphone-connected e-vehicles to be produced as traditional models meet market saturation in China, reports Liu Zheng in Shanghai 
Domestic e-cycles maker Yadea Technology Group Ltd unveiled a new electric scooter Z3 on Thursday, aiming to grab a piece of the rapidly growing market.
Z3 is an e-scooter that is powered by Panasonic's rechargeable lithium ion batteries. It uses the same energy that powers US electric vehicle maker Tesla Motors.
Price was not immediately released during the launch ceremony, instead, the company introduced a 100-testing-drivers project, which will provide 100 Z3 for selected early adaptors to collect feedbacks.
According to Xue Bo, director of Yadea's Product Center, compared with traditional e-scooter, Z3 is able to connect with driver's smartphone via mobile application and operate several functions, including lock-up, navigation, status review, theft-proof and even headlamp color customization.
"This model is equipped with our flash charging technology, which allows the batteries to be fully charged in two hours and meet the range distance per charge to 120 kilometers," said Xue.
Talking about counterfeits and substandard products that are sold in the market, Dong Jinggui, president of Yadea, said that some of the domestic manufacturers simply set up their business only to achieve maximum profits rather than provide good services to their customers.