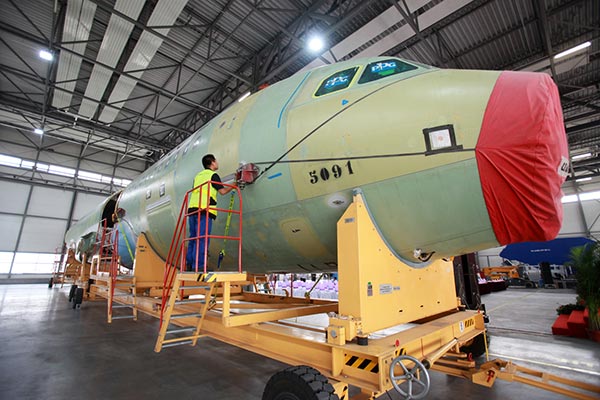 The Airbus facility in Tianjin is the company's only aircraft fi nal assembly line outside Europe. [JIA LEI / FOR CHINA DAILY]

Foreign investment switches to advanced manufacturing and services
Foreign companies, instead of investing in traditional manufacturing industries, such as machinery, steel and automobiles, as they used to, are now concentrating on China's advanced manufacturing and service sectors.
Denis Depoux, vice-president of Roland Berger Strategy Consultants for Asia, said China's growth will be less capital-intensive and investment-driven, which also means that government decision-makers will increasingly evaluate projects based on their economic, environmental and operational efficiency.
"Overall, the modernization of the Chinese industrial base will gradually improve the ability for foreign companies to market high value-added products and services in China while creating new competition," said Depoux.
Last month, Germany's Siemens AG opened its first innovation center for intelligent manufacturing in Qingdao, Shandong province, to enhance innovation in the fields of robotics, modern logistics, big data, information security and smart cities.
Zhu Xiaoxun, head of Siemens Corporate Technology China, said the center will bring advanced digitalization and automation technologies to China's manufacturing industry and create innovation platforms that integrate both the virtual and real worlds and transform concepts into solutions with partners in China.
"China's surging wealth and ongoing urbanization process have put traditional labor-intensive industries under huge pressure in terms of technological upgrading, recruitment and high employee turnover," he said.
Siemens will increase investment in research and development by 300 million euros ($332 million) to a total of 4.8 billion euros globally this year, and will deploy more resources and technologies in the Pearl River Delta region in Guangdong province, one of China's traditional manufacturing bases.
Its expansion plan will include building a rail equipment manufacturing base in Jiangmen, as well as introducing more advanced factory equipment and traffic control systems, green building construction and management processes, and smart grid and electric vehicle manufacturing equipment at its facilities in the Hengqin New Area of Zhuhai.
Eager to grab more market share, US aircraft maker Boeing Co plans to build a completion center for the B737 in China after breaking a record in the Chinese market in 2015with the delivery of 200 aircraft, which accounted for 55 percent of the market's new aircraft deliveries for the year.
Airbus, Boeing's major rival, delivered 160 aircraft to China last year, the sixth year in a row the European aircraft maker's deliveries to China exceeded 100. The company operates its only aircraft final assembly line outside Europe in Tianjin, a port city in North China.
With the service sector accounting for 50.5 percent of China's GDP in 2015, it has also become a hot destination for foreign investment over the past five years.
Home Credit Group, a consumer finance provider from the Czech Republic that entered China in 2007, now has registered capital of 3.3 billion yuan ($507 million) in the country. It has a presence in more than 260 cities in 24 provinces and municipalities, and last year had more than 33,000 employees in China.
"I have full confidence in the Chinese economy. Compared with the rest of the world, for example, Europe, China has achieved significant economic growth," said Jiri Smejc, chairman and CEO of Home Credit.
"China's economy is restructuring from one driven by investment to one that is driven by consumption," said Smejc.
The company will increase the number of products available for loans and accelerate the development of its online business in China to further diversify its operations this year.