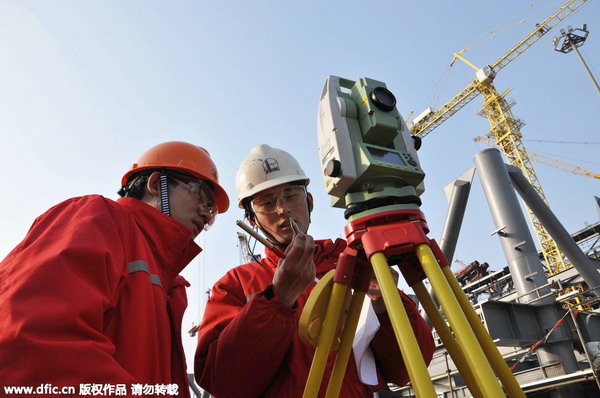 Staff members of a Chinese oil company work at a construction site in Qingdao, Shandong province, Feb 22, 2014. [Photo / IC]
The government's ongoing anti-corruption drive is having a diverse effect on outbound mergers and acquisitions activity, despite a growing number of opportunities brought about by dropping crude oil and commodities prices, according to a leading expert.
Jeremy South, global leader of mining M&As with Deloitte Touche Tohmatsu Ltd, said that China used to be a "very active buyer in the global energy M&A market", but since the government started to take serious action to fight corruption, "doing nothing has become the preferred strategy for some State-owned enterprises" in the sector.
South said the country's energy M&A market has slowed considerably over the past two years, as the national graft clampdown has picked up pace.
Last week the central government's anti-corruption watchdog said on its website that Wu Zhenfang, the former general manager of State-owned China National Offshore Oil Corp, the biggest offshore oil and gas producer, was being investigated for "serious disciplinary violations", meaning all three of the country's major energy companies have now fallen under the spotlight.
China National Petroleum Corp, the country's largest oil and gas producer, and Sinopec Group, Asia's biggest refiner, both have senior officials being investigated.
Like South, an insider close to CNPC told China Daily said that energy companies, especially State-owned ones, have now become extremely cautious over overseas deals, because of the complexities that can be involved and the possibility of being seen as falling foul of international M&A processes.
Han Xiaoping, chief information officer at China Energy Net Consulting Co, said the situation has become such that decisionmakers are cautious and that acquisitions have become more than just financial decisions.
He urged the authorities to introduce mechanisms that allow stricter supervision of overseas acquisitions, particularly by the country's oil companies.
According to the CNPC Economics and Technology Research Institute, the top three energy companies spent less than $3 billion in total on new overseas asset acquisitions in 2014, a 90 percent fall on the previous year.
In contrast, private energy companies have been accelerating their investments in foreign lands. The institute's data showed that Chinese private companies invested $2.2 billion in outbound M&A in the oil and gas sector last year, more than double the $1 billion invested in 2013.
"This year will be a better year for M&As because commodity prices are still low; but given the impact of the anti-corruption campaign, private companies will continue to be more active than the State-owned ones," said South.