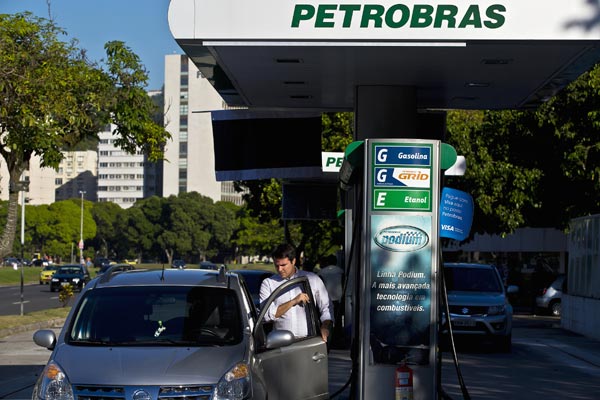 A customer returns to his car after purchasing gasoline at a Petrobras station in Rio de Janeiro, Brazil. [Photo/Agencies]
Financing deal seen as 'first step' in expanded energy cooperation with Brazilian firms
China is always looking for new ways to go overseas in the energy sector, and one example of that effort is a $3.5 billion financing deal between Brazilian state oil giant Petrobras SA and the China Development Bank, experts said on Thursday.
Petrobras, which has been facing financial difficulties, signed the deal with the bank under a cooperation agreement covering 2015 and 2016, the company said.
Liu Yijun, a professor at the China Petroleum University, said that low crude prices have opened up new opportunities for Chinese companies to go overseas.
"The financial deal is just the first step. It will pave the way for the two emerging economies to undertake comprehensive cooperation in many sectors beyond energy, including infrastructure construction," Liu said.
He said that Chinese energy companies that want to expand overseas should consider many channels in addition to acquisitions.
Petrobras, which is based in Rio de Janeiro, said the company and the CDB "both confirmed their intention to undertake further cooperation in the near future" as part of a strategy to "strengthen synergies between the economies of the two countries".
"Brazil is a resource-rich country, but it is short on technology and capital," Liu said.
According to the CNPC Economics and Technology Research Institute, exploration in Latin America last year turned up 34 new oil and natural gas deposits that hold an estimated 420 million metric tons of crude oil and 161.8 billion cubic meters of gas.
Offshore blocks in Brazil accounted for the largest portion of these findings.
Brazil had the fastest-growing crude reserves in the world over the past 20 years, and the nation had 1.5 billion tons of crude reserves as of 2013. Petrobras has forecast that number will rise to 1.9 billion tons by 2020.
Petrobras plans to invest $150 billion in developing its deepwater sub-salt oil and gas resources by 2017.
Low crude prices drove the Brazilian oil giant to cooperate with the CDB, said Li Li, research director at ICIS Energy, a Shanghai-based energy information consultancy.
Petrobras' debt reached $17 billion in 2014, which made the company the world's most indebted oil producer. It may need to sell assets to pay that debt and raise money for its development plans.