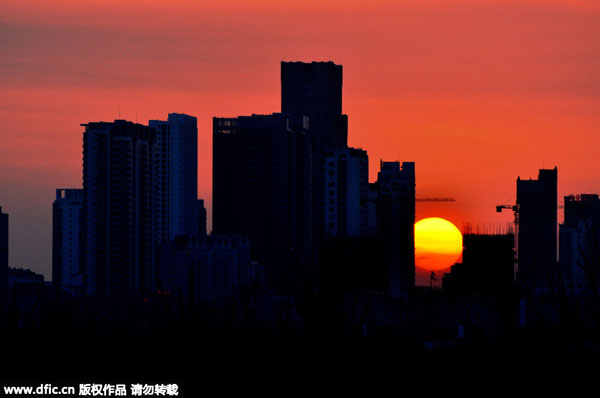 Residential buildings as the sun sets in Rizhao city, Shandong province, Mar 25, 2015. [Photo/IC]
A national housing bank should be created to optimize the use of China's Housing Provident Fund and help stimulate the sluggish market, according to officials.
Zhang Qiguang, head of the fund's supervision department at the Ministry of Housing and Urban-Rural Development, said it is time for China to establish a policy-based housing financial institution or a national housing bank to boost housing demand.
The property sector is still one of the key driving forces powering the world's second-largest economy and any sudden market contraction could trigger serious risks related to debt default and to the shadow banking sector, Zhang wrote in the Economic Observer newspaper on Sunday.
He said the real estate market has been experiencing structural changes. Some cities are inundated with an oversupply of housing stock while others demand more and better houses, as increasing numbers of rural residents move into cities.
Real estate is no longer the top investment choice for many families and cash-strapped banks are tightening their policies on interest rates out of profit concerns, said Zhang.
The article proposes using the fund to create a national housing bank, by offering low-interest-rate housing loans to help middle-and low-income families afford houses.
Such a move would reduce the financial burden on commercial banks and facilitate interest rate liberalization.
It also suggests rural workers seeking jobs in cities be included in the provident fund system, with the government offering them support to buy their own homes.
The government established the Housing Provident Fund mechanism in 1998.
The program combines a 401(k)-like savings and retirement account with subsidized mortgage rates and price discounts to provide a mechanism through which an employee could save for, and eventually complete, a housing purchase.
China has 342 local provident fund regulation stations across the country holding more than 3.7 trillion yuan ($603 billion) in funds.