Uzbekistan embarks on journey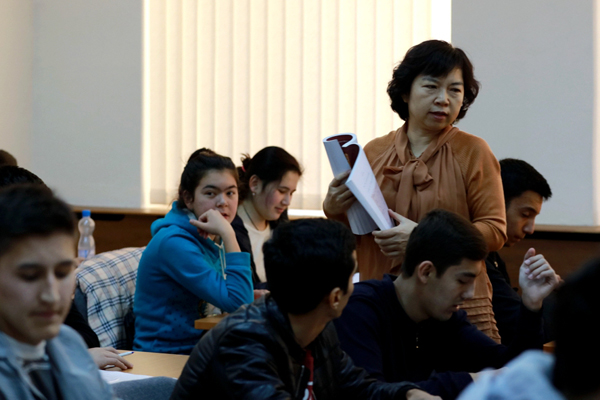 Students learn Chinese at the Confucius Institute in Tashkent, the capital of Uzbekistan. [Photo by Ren Qin/China Daily]
Editor's note: This is the second installment of China Daily's special series on the Belt and Road Initiative.
More than 2,000 years ago, China and Central Asia were linked by the Silk Road. Now a modern version of the ancient trading route is being built, and Confucius Institutes are spreading the Chinese language and culture throughout the region.
Uzbekistan is a typical Silk Road country. Some of its oldest cities, such as Bukhara and Samarkand, became wealthy as a result of the fabled route and established close commercial relations with China.
Those relations have been maintained, not only politically and economically, but also culturally. With the development of modern Uzbekistan, economic cooperation between the Central Asian nation and China has increased in recent years, and a growing number of Uzbeks are learning about the Chinese language and culture.
Uzbekistan was the first nation to sign an agreement with China to establish a Confucius Institute, which provides foreigners with language skills and extensive knowledge about the world's second-largest economy.
In June 2004, Lanzhou University, in the capital of Gansu province, and the Tashkent State Institute of Oriental Studies signed contracts to build the first Confucius Institute in the Uzbek capital, assisted by the China National Office for Teaching Chinese as a Foreign Language.
The institute, which opened in 2005, saw 30 to 50 students enroll in the first year. At the time, few Uzbeks knew anything about China, its language and culture, according to Di Xiaoxia, the Chinese director of the Tashkent Confucius Institute.
"In the beginning, we had to expend a lot of effort because the Uzbeks had no idea of what we were or what we taught," she said. "We had to place a lot of ads and promotions in the community before parents brought their children to the institute."
Now, the situation is vastly different. After 10 years of development, large numbers of Uzbeks attend the Tashkent Confucius Institute, and more than 1,200 students-ages 8 to 60-attend its Chinese classes every year, according to Saodat Nasyrova, the institute's Uzbek director.
Nasyrova visited China as a 17-year-old student of Chinese, and began teaching the language in 2003. She said studying Chinese has become increasingly popular in Central Asia, and two high schools in Tashkent offer classes in the language-Tashkent No 59 Middle School and the Tashkent State Institute of Oriental Studies, which is affiliated with the school.
"The institute moved into a new building in 2016, gaining more classrooms and greater seating capacity. However, many more people are coming to the admissions office than we can accept," she said, adding that some form of entrance exam may have to be adopted if the number of people who want to study at the institute continues to grow.