Yunnan boosts efforts to stem trafficking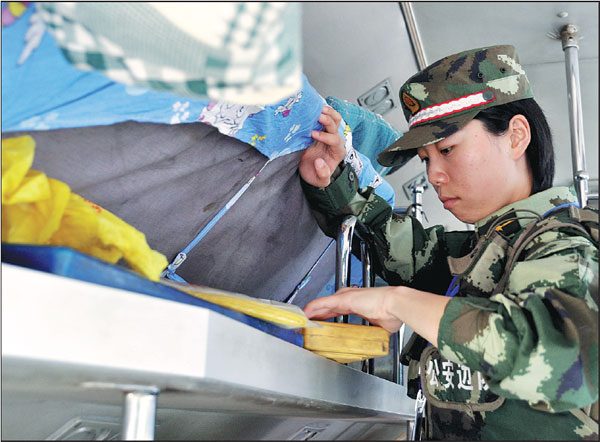 Yuan Xiaorui, a police officer at the Mukang border checkpoint in Mangshi, Yunnan province, checks a long-distance bus.Photo Provided By Mukang Border Checkpoint
Armed police are intensifying the crackdown on the cross-border flow of narcotics. Zhang Yi reports from Mangshi, Yunnan province.
One of the biggest hits at the Chinese box office during the recent National Day holidays was Operation Mekong, an action-thriller by Hong Kong director Dante Lam, which depicts the hunt for a drug lord in the wilds of the Golden Triangle, Asia's largest opium-producing area that straddles Myanmar, Laos and Thailand.
The public may have been gripped by the movie, but according to Meng Liming, it was light relief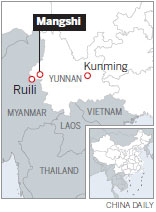 compared with the work he and his colleagues undertake at the Mukang border checkpoint in Mangshi city, Yunnan province.
"Our daily work is far more challenging and life-threatening than the anti-drug operations presented in the movie. We are required to wear bullet - and stab-proof vests to ward off attacks. Even wearing a full set of body armor, we are still exposed to unpredictable danger. Drug cases vary one from another and we often face life-and-death situations," said the 40-year-old armed officer, after watching the movie.
Yunnan, in China's far southwest, shares a 4,060 km border with Myanmar to the west and Laos to the south, and is a gateway targeted by drug traffickers.
The dozens of officers who have manned Mukang in the past 15 years have prevented more than 4,500 kilograms of drugs - mainly opium, heroin and methamphetamine - from being sold on China's streets. Last year alone, more than 300 kg of narcotics was seized at the checkpoint, the highest figure in eight years.
Success has come at a heavy cost, though: in the past decade, three officers have died while confronting traffickers and 168 have been wounded.