Joint MBA program to stimulate innovation
University College London agreed to a new entrepreneurship-focused MBA program in partnership with Peking University in Beijing on Thursday, riding on a wave of Chinese demand for such qualifications.
The program sells itself as a highly hands-on course, preparing graduates for running their own startups, rather than the more traditional MBA programs that equip graduates to fill senior management roles.
Lin Jianhua, president of Peking University, said during a signing ceremony that the strategic cooperation framework the two universities have signed not only includes the MBA program, but also institutional-level cooperation.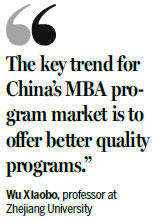 Michael Arthur, president of UCL, said there is a whole range of areas that two universities can cooperate in.
"We would like to have educational cooperation in both directions, which allows us to think big," Arthur said.
"Graduates recognize the importance of applying their knowledge to the real world," said Bert de Reyck, director of the UCL School of Management.
The full-time program, with first intake in September next year, takes 18 months to complete and is taught in English, with students receiving UCL degrees. It costs 310,000 yuan ($45,800) and is China's second-most expensive MBA program, with most MBA degrees in the country costing less than 200,000 yuan.
Yang Yao, dean of Peking University's National School of Development, said the UCL partnership comes at an opportune time for China's MBA market because increasing numbers of Chinese students are setting up their own companies in China.
"UCL has another advantage of being in London, which is a big center for startups and innovation, so we can take our students to visit," Yang said.
Entrepreneurship and international collaboration have taken off as big selling points for Chinese MBA programs.
Wu Xiaobo, a professor of innovation and strategic management at Zhejiang University, said that a lot of graduates end up starting their own global businesses with fellow classmates from other countries.
"The key trend for China's MBA program market is to offer better quality programs. This upgrade in the quality of MBA programs is consistent with the overall upgrade of China's economy," Wu said.