In art we trust
By Li Xiang in Paris ( China Daily Europe )
Updated: 2013-12-20 10:00:41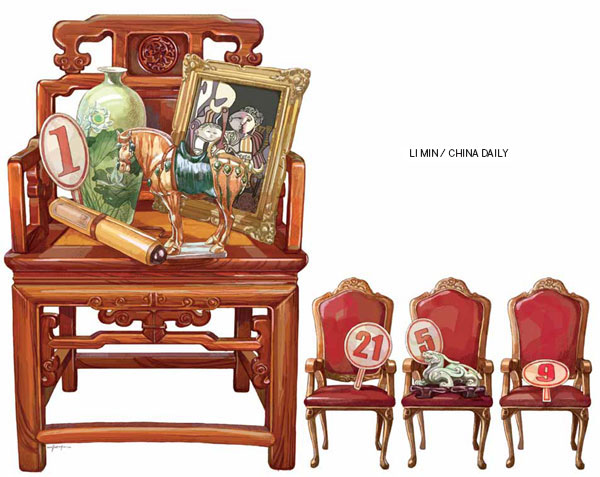 Demand from wealthy Chinese investors keeps world art market ticking over
When Chinese conglomerate Dalian Wanda Group paid a record breaking $28.2 million (21 million euros) for a Picasso painting at a Christie's auction last month, more than double the high-end estimate for the artwork, it showed that not only is the art market doing well in China, but also growing in appeal as a safe haven for wealthy investors.
Unlike most of the other arms of the luxury trade, art investments have always been a roller-coaster ride for investors. High acquisition, maintenance costs and unsteady demand have prompted several wealthy investors to stick to safe havens such as gold and property.
All of that seems to be changing now, it seems, judging by the steady stream of Chinese buyers thronging the flea markets, antique shops and high-end auction houses of Paris, London and various other European art markets. The buying patterns are also varied, ranging from imperial porcelain vases, bronze Buddha statues, traditional Chinese painting and calligraphy, and in some cases masterpieces by renowned artists.
The robust demand also indicates that demand for art investment has not waned in China, experts say, although the Chinese art market suffered an unexpected sales contraction last year.
"We have seen the number of Chinese clients double over the past year. More than 90 percent of the visitors at the pre-auction exhibitions of Asian art are from Asia," says Isabelle Bresset, associate director at Artcurial, a leading French auction house.
The uncertain financial conditions in Europe and other developed markets, according to some experts, offer an excellent opportunity for Chinese investors to find good bargains at reasonable prices. The real benefit, experts say, is the safety and authenticity that mature art markets like Europe can provide to investors, as counterfeits and market manipulations are rampant in China's art market.
Yet another benefit of the Chinese demand is the growing trade in Asian artwork and antiques across Europe, as seen in the increasing number of galleries and studios offering Asian collections for sale.
"The steady growth of the Asian art market is perhaps one of the most important trends in the global art market during the past decade," says Catherine Delvaux, head of communication services at French auction house Drouot. "Everyone in the market, including auctioneers, dealers and fair organizers, is interested in touching base with wealthy Chinese collectors."
The growing presence of Chinese buyers in the European art market has also inflated prices for Asian artwork prices across Europe, particularly for Chinese art, as most of the collectors are focused on products from China, experts say.
"The growing demand for Chinese art has resulted in sharp price spikes," says Titia Vellenga, the representative of the European Fine Art Fair, an annual event in Netherlands that brings together arts and antiques from several countries.
In France alone, the total sales of Asian art exceeded 200 million euros last year, accounting for 24 percent of the sales in the French art market, according to figures provided by Conseil des Ventes, the French auction regulatory authority.
Chinese art pieces have also become the top sellers at major auctions in Europe due to their ability to fetch jaw-dropping prices. In 2011, an 18th century Chinese silk scroll painting from the Qianlong period of the Qing Dynasty (1644-1911) was sold to an unnamed Chinese bidder for $31 million, which set the record for Chinese art at French auction houses.
An imperial album known as Zhigongtu in Chinese from the same period fetched $10.6 million last year in France and was bought by an unnamed Chinese collector.
"Sometimes it can be difficult for us to fully understand the size of the country and the potential of the Chinese buyers. It is simply beyond imagination, and the prices at the auctions are often exceptional," Bresset from Artcurial says.
Leila de Vos, the European head of Chinese works of art at London-based global auction house Christie's, says that Chinese spending has grown more than 250 percent in the past five years.
"The more people are active in our sales, wherever they are from, the more competition there is for each lot. And this in turn leads to the lots going for higher prices," she says.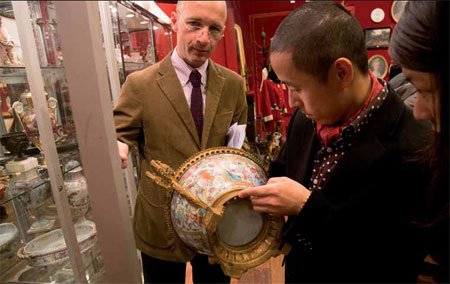 Bubble issues
The sharp rise in prices of Chinese art, both at home and in international art markets, driven by deep-pocketed Chinese buyers, has prompted several experts to link it to the Japanese-driven impressionist art bubble of the late 1980s.
Dutch painter Vincent Van Gogh's artwork Sunflowers was bought by a Japanese institution in 1987 at a record price of $39 million, which also signaled the height of Japanese economic power. Bubble fears were stoked and proved right later after impressionist art prices collapsed when the Japanese economy tanked. Experts feel that the buying frenzy unleashed by Chinese investors could trigger potential bubbles in the European art market.
"Many of my Chinese clients were those who used to buy artworks for 1,000 or 2,000 euros at the flea markets," says Philippe Delalande, a leading global expert on Asian art. "These same clients are now bidding for major artworks at big auction houses. It is a pretty amazing progression."
"It has become a game for them, and the competition is becoming really high. Sometimes the price goes to a level that is quite dangerous."
William Chak, a well-known art dealer from Hong Kong who set a world record in 2005 by paying HK$115.4 million ($14.9 million; 11 million euros) for an 18th-century porcelain vase of Qing Dynasty, also has similar concerns.
"When I first came to Europe in the 1970s, looking for valuable pieces was a joyful experience. But now it has become a burden as the catalogues of auction houses are getting thicker and thicker and people are buying art pieces like shopping in the supermarkets," Chak says.
"What is worse is that the art market now seems very unhealthy as it is full of people who consider art collection as a lucky dip and a quick way to make money."
Cheap imitations of Chinese art have reportedly started to flow from China to the European markets, where they become pricy art pieces that are later resold to wealthy Chinese buyers.
"My concern is that the inflow of fakes will dilute the overall quality of the European market and drive down prices," says Wang Yudong, an art expert and general manager of Beijing Gehua Art Co, a state-owned firm and local partner of global auction house Sotheby's.
"If this becomes a trend, it will hurt the authenticity of the European market and it will be the collectors who will eat the bitter fruits in the end."
But some experts feel it is still too early to say if the market has peaked as the number of high-quality Chinese artworks is dwindling in Europe, something that could trigger more price rises.
"The market is living on the existing pieces whose number is decreasing as many of them are going to Asia," Delalande says.
"The scarcity of high-quality works means that the price will continue to rise while there will be more money and stronger demand from the rich Chinese buyers."

China taken on as building partner
Meetings with central and Eastern European heads underline China's global roal.