In art we trust
By Li Xiang in Paris ( China Daily Europe )
Updated: 2013-12-20 10:00:41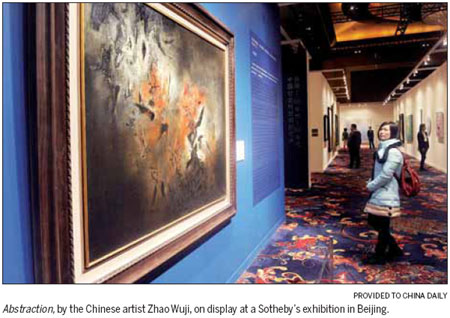 Liberalization issues
One of the problems for art buyers like Dalian Wanda Group is that it will be subjected to a stiff import tax of $6 million if it plans to ship the Picasso painting back to China, experts say.
High transaction and import taxes have made China one of the most expensive and complex markets to do cross-border art trading, experts say. In order to encourage greater art trade and exchanges with the international market, the Chinese authorities have taken steps to liberalize the market further by setting up free trade zones in major cities such as Beijing and Shanghai.
The 83,000-square-meter Beijing Freeport of Culture, next to Beijing Capital International Airport and developed by the state-owned Beijing Gehua Cultural Development Group, is scheduled to open next year. The Beijing freeport will enable artworks to be imported and stored in the zone without transaction and import taxes.
Experts say such moves will help ease concerns of Chinese art collectors about high import taxes and will eventually enable Beijing to challenge Hong Kong as a major regional art trading hub.
On Dec 1, New York-based auction house Sotheby's held its first commercial auction in the Chinese mainland in collaboration with its Chinese partner Gehua Cultural Development Group. The auction, taking place in the virtual tax-free zone developed by the Chinese company, raised a total of $37 million.
Restrictions on foreign companies selling antiques and cultural relics in China are also likely to be relaxed in the future, experts say.
Foreign auction houses such as Christie's and Sotheby's have already been given a green light to operate in the Chinese mainland market. But they are still barred from selling Chinese antiques and cultural relics under the current laws.
Wang from Beijing Gehua Art Co says: "China is likely to open the trading of cultural relics to foreign companies in the future as it did to domestic private companies a few years ago. It is just a matter of time."
Allowing large international auction houses to operate in the Chinese art market will help introduce healthy competition and regulation in the market as deter speculators and smaller players, he says.
Zhang Chunyan and Wang Mingjie in London contributed to this story.
lixiang@chinadaily.com.cn 

China taken on as building partner
Meetings with central and Eastern European heads underline China's global roal.