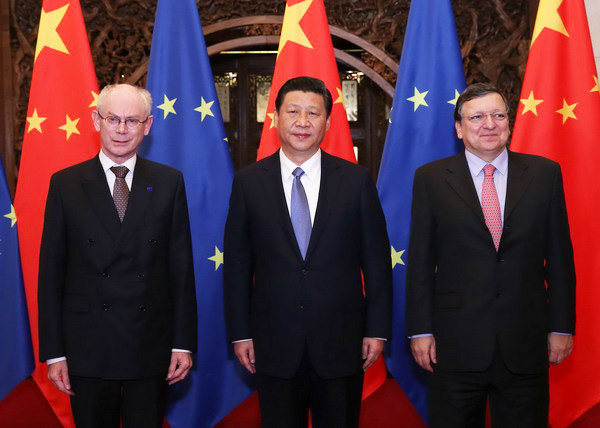 Chinese President Xi Jinping (C), European Council Herman Van Rompuy and President of the European Commission Jose Manuel Barroso pose for photos during the first EU-China summit since Xi's government took power earlier this year. [Photo/Xinhua]
China and the European Union should foster new growth areas in cooperation, President Xi Jinping told EU leaders on Wednesday, as they met one day before a key China-EU summit.
While the two sides are set to discuss an all-important investment treaty during the summit, Xi also called on the EU to offer more convenience to Chinese investors.
Analysts said the summit, the first between leaders of the two sides after China's leadership transition in March, will help set the direction for cooperation during the next decade.
During the meeting with European Council President Herman Van Rompuy and European Commission President Jose Manuel Barroso, Xi said China and the EU should thoroughly set up their strategic cooperative plan by 2020.
Through the plan, the two economies should foster and develop new growth areas in cooperation, including urbanization, innovation, aeronautics and astronautics, Xi said.
The 16th China-EU summit, to be presided over by Premier Li Keqiang and the EU leaders, comes as the two sides celebrate their 10th anniversary of Comprehensive Strategic Partnership.
Leaders will summarize China-EU ties in the past and set the tone for relations in the next decade, analysts said.
"Along with China's dynamic development, the cooperative forms and contents between China and the EU should be improved," said Tian Dewen, a researcher of European studies with the Chinese Academy of Social Sciences.
"The summit offers China and the EU a good opportunity to find new cooperative mechanisms, given that the interdependent relationship between the two economies has changed along with their development," said Cui Hongjian, director of European studies at the China Institute of International Studies.
"There are some problems that the present cooperative mechanism cannot thoroughly resolve, so leaders from the two sides need to upgrade the mechanisms," he said, citing the solar panels case as an example.
In the first half of this year, China and the EU clashed over trade issues, principally over EU accusations that Chinese companies were selling solar panels in the bloc below cost, which prompted Beijing leaders to discuss dropping an investigation into the dumping of EU wine imports.
"At the summit, China and the EU should find more common interests and clarify the role the other side plays for its own development to avoid similar problems," said Cui.
China plans with its recent reform overhaul to become a moderately prosperous society by 2020, while the EU, under its 2020 agenda, hopes to make the union more competitive as well as balance social protection and economic performance.
"Chinese and EU leaders should find ways to combine China's next round of reform with the China-EU cooperation," said Cui.