Students learn Chinese to hone their job prospects
More Kazakhs are studying the Chinese language in Astana, the capital of Kazakhstan, as more jobs requiring the language skills are needed.
Kazakhstan is one of China's largest trade partners in Central Asia and is a key part of the Belt and Road Initiative.
The popularity of learning Chinese is higher than ever in the newly built city, and the number of students in the Eurasian University Confucius Institute is at its highest level.
Deng Ying, of Xi'an International Studies University, is the third Chinese director in this Confucius Institute since it opened in 2007.
She said there were just dozens of students in 2007 and the number increased rapidly after 2013, when President Xi Jinping proposed the Silk Road Economic Belt in Astana.
"When I arrived in Astana, the student number reached 386. This year we have over 530 students," she said with pride.
Over 60 percent of students attend university, 20 percent have been in the workforce for years, and the rest are school students, Deng said.
"More Kazakh people want to learn Chinese thanks to the close relations between the two countries," said Abkhapparobe Bibikhadishe, the Kazakh director of the Confucius Institute.
She said that No 67 Middle School was the first high school to teach the Chinese language in Astana due to demand for Chinese speakers in the city. More schools also will offer courses.
"In my opinion, the China-Kazakh relation is one of the most important bilateral relations in the world, because if we see the 20th century as the century of Western countries, the 21st century belongs to Asia," she said.
She said as the countries' relations get closer, more Chinese companies will invest in Kazakhstan, while many local companies also have their eye on China, which creates a potential for many job opportunities for language learners.
Patiman Kali, 44, is a Chinese Kazakh teacher who has worked in the Confucius Institute for two years. She said Kazakh Chinese learners have advantages that students from other countries don't have, because many Kazakhstan traditions are same as those of ethnic Kazaks living in China.
So when Kazakh students learn Chinese, it is easier for them to understand facets of the Chinese minority tradition.
Gazizova Guldana, 21, agreed with Kali. Now a senior student at Eurasian University, she spent half a year in Xinjiang University as an exchange student last year.
"When I studied in the Xinjiang Uygur autonomous region, I met several Kazak people. I talked to them and found we have a lot in common."
renqi@chinadaily.com.cn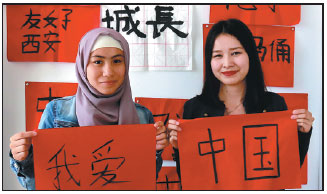 Eurasian University students Zhuassova Assem (left) and Gazizova Guldana show on Thursday their Chinese calligraphy works, which together say "I Love China".Ren Qi / China Daily
(China Daily 06/09/2017 page3)