Xi, Putin meet on bilateral ties, SCO development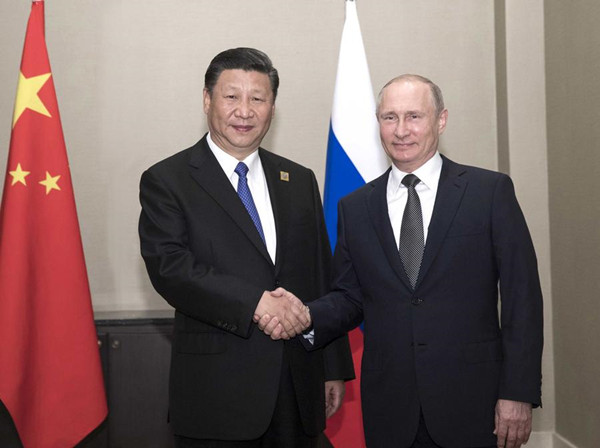 Chinese President Xi Jinping shakes hands with Russian President Vladimir Putin during their meeting as part of the Shanghai Cooperation Organization (SCO) summit in Astana, Kazakhstan, June 8, 2017. [Photo/Xinhua]
ASTANA -- Chinese President Xi Jinping and his Russian counterpart, Vladimir Putin, pledged here Thursday to enhance bilateral ties and promote the role of the Shanghai Cooperation Organization (SCO).
The two heads of state met ahead of the 17th SCO summit in Astana.
Noting that the SCO is facing new opportunities and challenges for development, Xi said China and Russia should strengthen communication and coordination, firmly observe the "Shanghai Spirit," boost solidarity among the SCO members, maintain regional security and stability, promote pragmatic cooperation, so as to constantly enhance SCO's influence in the international and regional affairs.
Xi urged the SCO to play a bigger role in Afghanistan's peace and reconciliation process, adding that China will assume the SCO rotating presidency after the Astana summit and is willing to maintain close communication and coordination with all parties including Russia, to achieve further development for the SCO.
During their meeting on the sidelines of the Belt and Road Forum for International Cooperation held in Beijing last month, the two leaders reached an important consensus on maintaining a high-level China-Russia comprehensive strategic partnership of coordination and enhancing all-round cooperation, according to the Chinese president.
Under the current complex international situation, sound China-Russia ties are of great significance to the two countries' development and revitalization, as well as to peace and stability of the world, Xi said.
The two countries should strengthen their mutual support on the issues relating to each other's core interests, said Xi, urging more achievements in the alignment of the Belt and Road construction with the Eurasian Economic Union (EEU).
The Chinese president also urged the two countries to deepen people-to-people and cultural exchanges and strengthen coordination and cooperation in international and regional affairs.
For his part, Putin said it is of great significance for Russia and China to maintain frequent high-level interactions.
He urged the two sides to step up their communication and coordination in a bid to maintain peace, stability and security in the region and around the world.
Russia and China should work together with all sides concerned to boost unity and coordination among the SCO members to enhance the influence of the organization in international affairs, Putin said.
Reiterating his congratulation on the success of the Belt and Road Forum for International Cooperation, the Russian president said the Belt and Road Initiative has won extensive support in the international community.
The two heads of state also exchanged views on the situation in Afghanistan and on the Korean Peninsula, as well as on other international and regional issues.