China and Kazakhstan join hands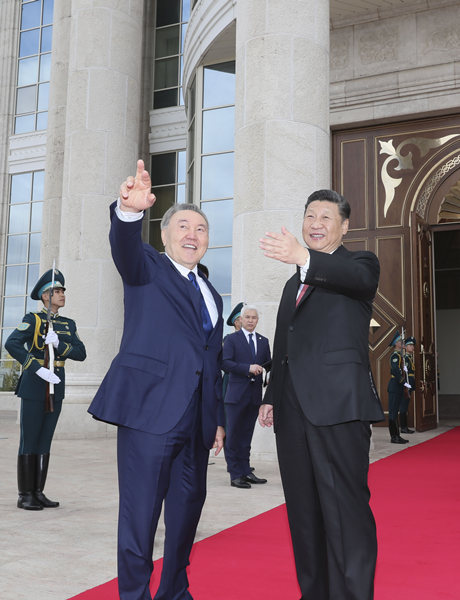 President Xi Jinpingspeaks with Kazakhstan's President Nursultan Nazarbayev in the capital, Astana, after his arrival on Wednesday for a four-day visit.Lan hongguang / XINHUA
Xi and Nazarbayev agree to bolster cooperation in a multitude of areas
China and Kazakhstan signed documents on Thursday to bolster cooperation in such areas as trade, finance, infrastructure construction and hydroelectric projects during President Xi Jinping's ongoing state visit.
Xi and Kazakh President Nursultan Nazarbayev witnessed the signing of the agreements and memorandums of understanding amid the two countries' efforts to connect the China-proposed Belt and Road Initiative with Kazakhstan's Bright Road new economic policies.
The Chinese president is on a four-day visit to Kazakhstan that started on Wednesday. A joint declaration was issued after the meeting between the two presidents.
During their talks, the presidents agreed to link Kazakhstan's strategy of building an international logistics passage with China's efforts to build the new Eurasia Continental Bridge — a rail link to Europe — as well as a corridor that links China with West Asia via Central Asia.
The two sides also agreed to connect China's advantages in both land and maritime transportation with Kazakhstan's need for access to maritime transportation.
Xi said the two countries' political trust has reached an unprecedented high level. He added that the key to the rapid development of Sino-Kazakh relations has been that the two sides have adhered to the spirit of a friendly neighborhood, the principle of mutual respect and the view of joint development.
"The two nations should always be good neighbors, friends and partners," Xi told reporters after the meeting.
Kazakhstan would like to deepen cooperation with China in areas such as transportation, production capacity, industrial parks, finance and agriculture under the Belt and Road framework, Nazarbayev said. He added that the Belt and Road Initiative is highly significant.
During their talks, the leaders agreed to maintain close high-level exchanges, respect each others' efforts to safeguard their core interests, and jointly deal with challenges that may threaten regional safety and stability.
The two presidents also agreed to jointly build industrial parks, boost interconnectivity and deepen cooperation in areas like infrastructure, logistics, innovation, agriculture, forestry, finance, energy, science and environmental protection.
They pledged to maintain close communications on major global and regional issues; jointly fight terrorism, extremism and cross-border organized crime; and safeguard peace and stability.
The leaders spoke of the important role that the Shanghai Cooperation Organization has played in international relations, and agreed to deepen cooperation in politics, security, trade and people-to-people exchanges within the SCO framework.
Xi praised the progress made during Kazakhstan's SCO presidency, which began last year. China, which assumes the rotating leadership next, will make joint efforts for all sides to cooperate in a more comprehensive, pragmatic and efficient way, Xi said.
On his visit to Astana, Xi will attend the 17th Meeting of the Council of Heads of State of the SCO as well as the opening ceremony of the Astana Expo 2017 on Friday.
Zhang Xiyun, a former Chinese ambassador to Kazakhstan, said that Kazakhstan, the most prosperous country in Central Asia, has set an example in pragmatic cooperation with China in implementing the Belt and Road Initiative.
Kazakhstan's location provides a convenient gateway to Europe for Chinese goods and companies, while the Lianyungang seaport in Jiangsu province is a vital outlet for the products of inland Kazakhstan, he said.
Sun Zhuangzhi, secretary-general of the SCO Research Center under the Chinese Academy of Social Sciences, said that as Kazakhstan's largest trade partner, China is well positioned to strengthen ties in politics, economy, culture and security through Xi's trip, his third state visit to the country.
anbaijie@chinadaily.com.cn