BRICS members embrace open economy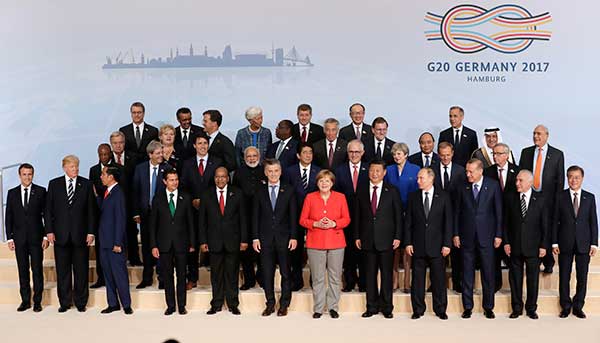 The G20 Summit participants pose for a group photo on the first day of the summit in Hamburg, Germany, on Friday. The summit will conclude on Saturday. MICHAEL SOHN/ASSOCIATED PRESS
Xi tells leaders a multilateral trade system will bear fruit for all people
The leaders of the BRICS countries reached important consensus on building an open world economy and improving global economic governance during their informal meeting on the sidelines of the G20 Summit in Hamburg, Germany, on Friday.
President Xi Jinping presided over the meeting, since China holds the rotating presidency of the BRICS bloc this year.
The BRICS Summit will be held from September 3 to 5 in Xiamen, Fujian province.
Xi said in his speech that there are currently positive signs for the world's economy, with a promising future for the development of BRICS countries, and at the same time, there are also challenges ahead for the BRICS members.
He called on the member countries to establish an open world economy, maintain a multilateral trade system and push forward open, inclusive, beneficial, balanced and win-win economic globalization, thus making the fruits of economic growth accessible for all people.
The BRICS countries should unswervingly stick to the principle of multilateralism in addressing conflicts and disputes, strive to achieve peace and cooperation, and make full use of multilateral mechanisms such as the United Nations to discuss international rules, he said.