G20 anti-graft specialists will boost Beijing's corruption fight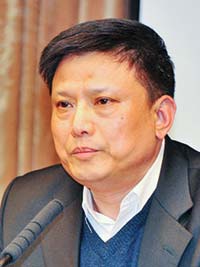 Huang Feng, an anti-graft scholar
China plans to recruit from G20 members dozens of anti-graft experts to help curb cross-border corruption, according to a Beijing-based research center.
Huang Feng, director of the Research Center on Cooperation Regarding Persons Sought for Corruption and Asset Recovery in G20 Member States, said: "We'll invite them as visiting scholars and work with them in the center for several months on joint research on transnational corruption crime, including hunting down the fugitives and confiscating illicit assets."
He said Chinese and foreign experts will compare domestic and foreign laws and legal procedures related to confiscating illegal assets, extradition, and judicial assistance.
The center, which is based at Beijing Normal University, was set up in September 2016, after the G20 Hangzhou Summit resolution on anti-corruption.
At that summit, G20 members agreed to advance the anti-corruption campaign and refuse to offer safe havens to corrupt officials who are still at large abroad.
Huang said the center has set up a network of experts, including 30 Chinese experts from judicial authorities and universities and 30 foreign experts from countries including the United States and Australia. The network will provide intelligence support in the hunt for corrupt fugitives and confiscation of illegal assets.
The center has drafted a research report into the latest developments in cross-border commercial bribery crimes, and has made it available to the Central Commission for Discipline Inspection, and other relevant authorities, Huang said.
In recent years, a number of corrupt Chinese fugitives have fled overseas. They flee to avoid legal punishment and to exploit a lack of bilateral extradition treaties and loopholes in the laws. Many flee with millions of yuan in illegal funds transferred to foreign accounts through money laundering and underground banks.
In 2014, China launched its Skynet initiative, which aims to track down corrupt fugitives. So far, more than 2,800 economic fugitives have returned to face trial from more than 70 countries and regions. More than 8 billion yuan ($1.16 billion) in illegal assets have been seized, according to the CCDI.