Xi calls on BRICS members to promote common development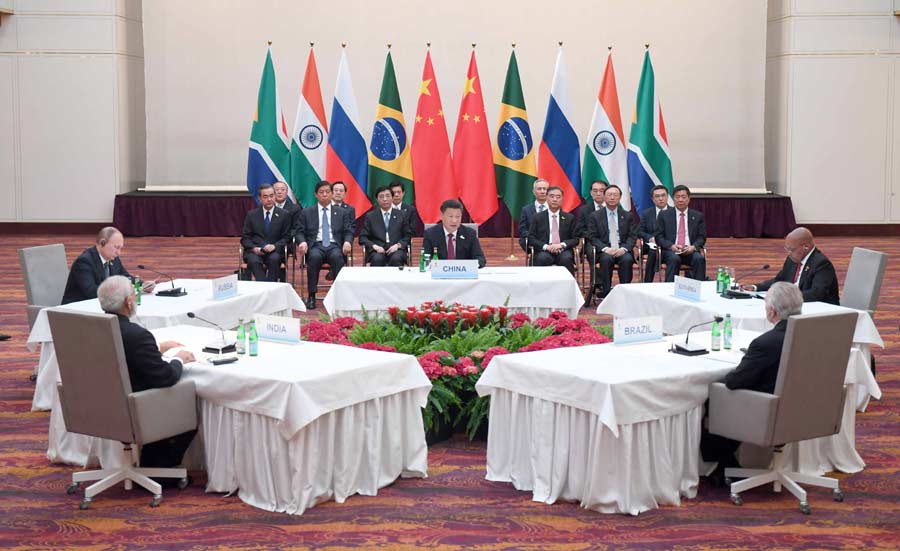 President Xi Jinping (C) presides over an informal leaders' meeting of Brazil, Russia, India, China and South Africa, ahead of a Group of 20 (G20) summit in Hamburg, Germany, July 7, 2017. [Photo/Xinhua]
HAMBURG, Germany - Chinese President Xi Jinping on Friday urged the BRICS members to unswervingly build an open world economy, champion multilateralism and promote common development.
He put forward the proposals at an informal leaders' meeting of the emerging-market bloc, which groups Brazil, Russia, India, China and South Africa, ahead of a Group of 20 (G20) summit in the German port city of Hamburg.
The BRICS leaders exchanged views on the current international political and economic circumstances and the G20's priorities, and reached important agreements on strengthening BRICS unity and coordination, jointly improving global economic governance and promoting sustainable development.
The Chinese leader, who presided over the meeting, also called on the BRICS countries to push for peaceful settlement of regional conflicts and disputes, and to consolidate the role of the G20 mechanism as the premier platform for international economic cooperation.
Meanwhile, the leaders pledged to work together for positive results at the BRICS summit in the southeastern Chinese seaside city of Xiamen later this year.