Xi lauds continued peace and prosperity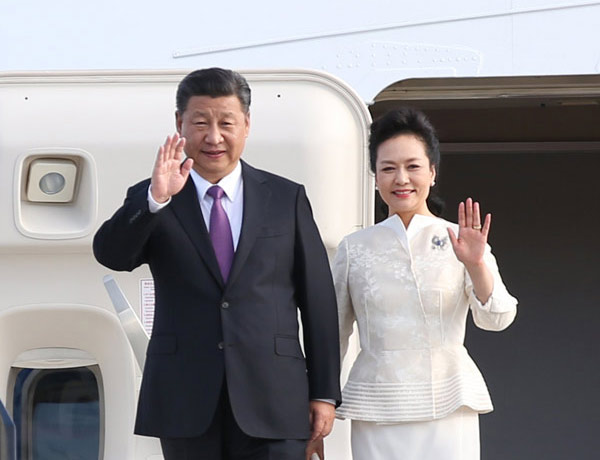 President Xi Jinping and his wife, Peng Liyuan, wave after arriving at Tegel Airport in Berlin on Tuesday for a state visit. [Photo/Xinhua]
China's president says Beijing and Berlin can champion world progress
President Xi Jinping called on Tuesday for joint efforts to be made with Germany to maintain economic globalization, and contribute to global peace and prosperity.
Xi made the remarks in a written statement that was released upon his arrival at the airport in Berlin at the start of his state visit to Germany. He will then fly to Hamburg where he will attend the G20 summit on Friday and Saturday.
Xi said in the statement he hopes to set new goals and help outline a new orientation for the development of the China-Germany comprehensive strategic partnership.
China is willing to make joint efforts with Germany to achieve positive progress at the G20 summit, building on the G20 summit held in Hangzhou, China, last year, Xi said. He added that the two countries should send positive signals of openness, cooperation, and mutual benefits to inject new impetus into global economic growth.
Xi extended his greetings and best wishes to the German people on behalf of Chinese people.
Since the establishment of diplomatic ties 45 years ago, they have deepened pragmatic cooperation in all areas, including politics, the economy, science, culture, and education, Xi said.
The development of China-Germany relations had brought real benefits to the people of both countries, and is a model for the promotion of China-Europe and Asia-Europe cooperation, Xi said.
The president said he is confident the visit will be a success and inject new impetus into the development of bilateral ties.
In a signed article published in the German newspaper Die Welt, Xi said pragmatic cooperation between China and Germany is a great example of cooperation between two of the world's most important economies.
German cities, including Duisburg and Hamburg, have become important hubs for freight-train traffic between China and Europe, Xi noted.
He said both China and Germany should shape investment environments that are open to each other and encourage fair competition.
The world's second- and fourth-largest economies should deepen cooperation in areas including innovation, the internet, finance, energy, environmental protection, and green development, he added.
And they should reinforce cooperation within the framework of supporting the Belt and Road Initiative, and jointly contribute to security, stability, and prosperity in countries covered by the initiative, Xi said.
Xi noted that China and Germany have set up more than 70 mechanisms for dialogue and cooperation, with partnerships growing in the areas of aerospace, cyberspace, and around the oceans and Arctic areas.
As part of a booming cultural exchange, more than 2 million trips were made between the countries last year.
During his state visit, Xi and German Chancellor Angela Merkel will attend the inauguration of a panda pavilion at Berlin's zoo. Xi said he hopes the pandas will represent friendship between the countries. And he called for cooperation in education, travel, health, and soccer.
At the G20 summit, China hopes to work with all parties to send clear signals about international economic cooperation and global economic governance, and contribute to promoting world economic growth and perfecting global economic governance, Xi said.
He called on the G20 to uphold openness and development, support multilateral trade based on the World Trade Organization, and promote the role of trade and investment as driving forces of world economic growth, he said.
Contact the writers at anbaijie@chinadaily.com.cn