Network now: Consensus reached on new media strategy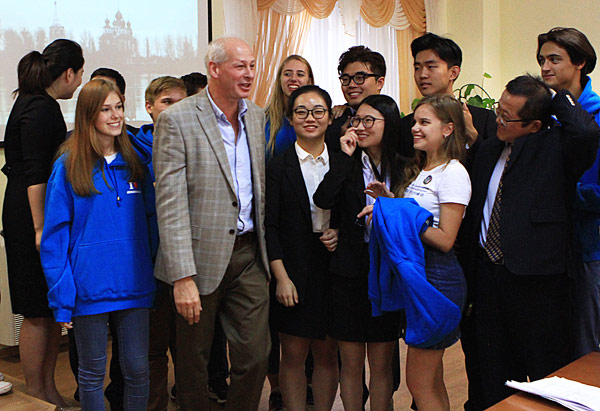 Volin Alexei Konstantinovich, deputy minister of Communications and Mass Media of the Russian Federation, talks with young people at the second China-Russia New Media Forum in Rostov-on-Don, Russia, on Monday. [Photo/China Daily]
After two days' discussion, media insiders, experts and scholars reached the Consensus of China-Russia New Media Cooperation at the Second China-Russia New Media Forum at Don State Technical University, Rostov-on-Don, Russia, on Monday and Tuesday. Following are the excerpts of the consensus:
Today, new media and new business models are becoming more and more widely applied, blurring the boundaries between telecom, media and the internet business. The new reality is coming to all platforms in the media market.
New media has become an essential channel for disseminating information, playing an increasingly important role in social development. Rapid development of information technology, which is changing all aspects of society, including the economic development model, has imposed a penetrating influence on people's personal interests and social security.
At the same time, network space and media are communication channels that younger generations are most eager to follow and demand.
Russian and Chinese representatives in the media industry should establish regular contact and enhance cooperation in the field of new media to meet the challenges brought by new technologies and the transforming business environment.
The cooperation between China-Russia media industries will inject impetus to the countries' comprehensive strategic partnership of coordination and will become a successful mode to be promoted and extended in the interaction and cooperation between the two sides' various levels, such as in regions, provinces, cities, universities and public associations.
Apart from the traditional forms of international interaction, such as exchanging visits, film festivals, forums and themed conferences, it is important to develop joint cooperation in the field of new media, using language that is equally understood by both Chinese and Russian youth.
There should be mobile platforms and joint social networks, projects in the field of internet TV, blogging, e-sports and virtual and augmented reality.
As an integral part of the China-Russia Media Exchange Year, China-Russia New Media Forum: New Media-Youth Collaboration, focuses on the interests of the younger generation. Joint projects, such as media expeditions around historical places and cyber-matches, not only provide inspiration and arouse creativity, but also serve as a basis for communication between the youth of two countries and support development of long-term cooperation. In the era of integration of traditional and new media and the emergence of new technologies, it is important to unite efforts at a higher level to develop cooperation within the framework of joint projects, training and exchange of experience.