British researchers trace mystery deer skin back to China's Hainan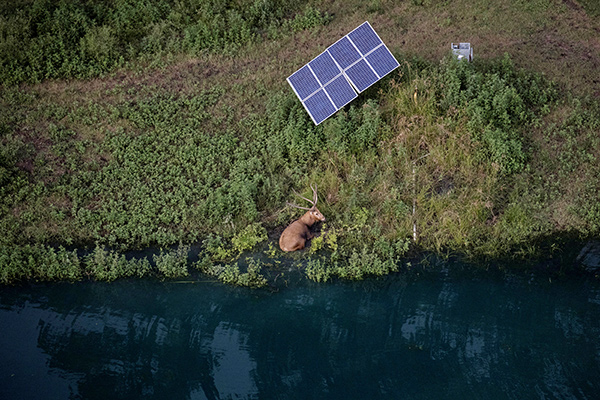 A Pere David's deer rests next to a wateringf hole and a solar panel in Thompson, Texas on August 30, 2017. [Photo/Agencies]
LONDON - A team of researchers revealed Wednesday that two unidentified deer skins, dating from over 150 years ago and held in the Natural History Museum's historical mammal collections, had actually originated from the last-recorded wild herd of Pere David's deer.
Through DNA analysis, researchers said they found the deer skin can be traced back to China's southern island of Hainan, and not to northern Chinese provinces as previously thought.
Known as milu, the deer are referred to in Chinese mythology with the ancient name "sibuxiang", believed to be a combination of four other animals: cow, deer, donkey and horse (or camel).
Pere David's deer is currently the only mammal species that is extinct in the wild but surviving in captivity. The only surviving members of the species are those living in zoos.
The study, published in the journal Royal Society Open Science, was done by researchers from the international conservation charity Zoological Society of London (ZSL) and the Natural History Museum.
Lead author Samuel Turvey from ZSL's Institute of Zoology said: "Our study provides a great example of how historical archives such can inform contemporary approaches to wildlife conservation, while also furthering our understanding of the mechanics of extinction."
Recognizable by their unique, rearward-facing antlers, all animals alive today are descended from a captive herd that lived in the grounds of the Imperial Hunting Lodge outside Beijing during the 19th century, which was until now of unknown wild origin.
Pere Amand David (1826-1900) was a Jesuit missionary who lived in China towards the end of the Qing (1644-1911) Dynasty.