New media China-Russia Forum kicks off in southern Russia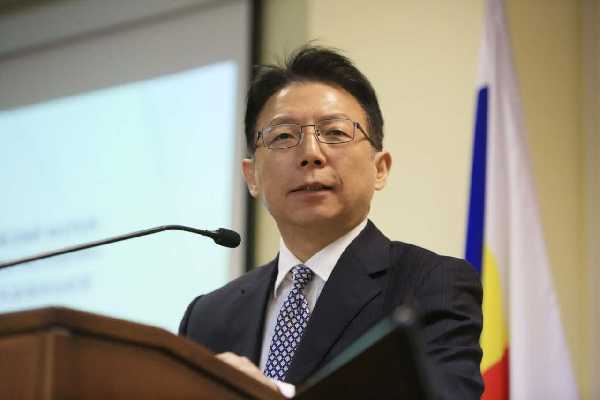 Zhou Shuchun, editor-in-chief of China Daily, speaking at the launch ceremony.[Photo by Du Lianyi/China Daily]
The second China-Russia New Media Forum kicked off on Monday in Rostov-on-Don, the biggest city in southern Russia.
200 businessmen, experts and scholars from China and Russia participating in the event. They discussed such topics as the role of the internet in the modern world, the influence of high technology on media, media education, youth entrepreneurship and innovation.
Media in China and Russia share the mission of telling the stories of their countries and enhancing international competitiveness and public influence by making the best use of the internet and new media, said Zhou Shuchun, editor-in-chief of China Daily, at the opening ceremony.
He added that more young people should be encouraged to tap their creativity and from generation to generation pass on the friendship between China and Russia.
Volin Alexei Konstantinovich, deputy minister of Communications and Mass Media of the Russian Federation, said that it is necessary for Russia and China to deepen collaboration in online media since the two countries face similar challenges.
Meanwhile, he said that he hopes to strengthen education for young people to make contributions to facilitating Russia-China relations.
Lu Lan, deputy director-general of the Bureau of Mobile Internet Management of Cyberspace Administration of China, said in the speech that deepening exchanges and cooperation between online media from China and Russia is important to promote bilateral relations to a higher level.
Lu said that online media in China and Russia should improve their cooperative mechanism, and facilitate cultural exchanges between the two countries.
Meskhi Besarion Chohoevich, rector of Don State Technical University, said he planned to set up a college with China to further expand cooperation in the education field.
During the China-Russia • Youth Collaboration, held in Rostov-on-Don from Sept 16-23, 14 students from China and Russia shot a short film about the Don River. The film was shown for the first time at Monday's ceremony and won applause from both Chinese and Russian attendees.
The second China-Russia New Media Forum is co-organized by China Daily Website and Don State Technical University. It is supported by the Cyberspace Administration of China, State Administration of Press, Publication, Radio, Film and Television of China, and Communications and Mass Communications of the Russian Federation.