Li, Putin meet in Moscow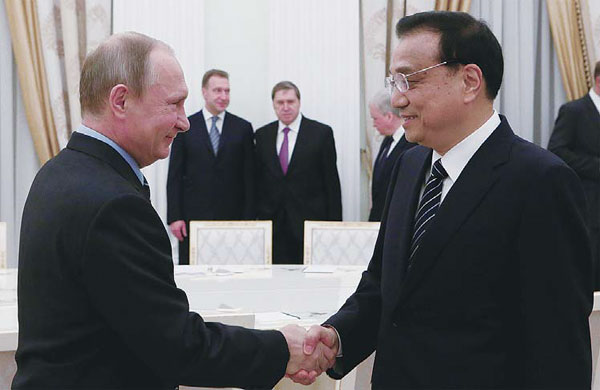 Premier Li Keqiang is greeted by Russian President Vladimir Putin at the Kremlin in Moscow on Nov 8. Reuters
Premier Li Keqiang met Russian President Vladimir Putin on Nov 8 in Moscow, continuing bilateral high-level exchanges and signaling a desire for further cooperation.
Moscow was Li's second stop in Russia and the last of his eight-day Eurasian trip, which has also taken him to Kyrgyzstan, Kazakhstan and Latvia. Li also met Putin in June during the Russian president's visit to China.
A major characteristic of the China-Russia relationship is that high-level meetings are frequent between the leaders. This has become the "locomotive" that pulls bilateral ties forward, says Jiang Yi, a Central Asian studies researcher at the Chinese Academy of Social Sciences.
In June, Li vowed to further link China's Belt and Road Initiative with the Russia-led Eurasian Economic Union and to form an industrial chain for cooperation in gas, nuclear power and electricity. Putin pledged willingness to promote production capacity and third-party market cooperation.
Before his arrival in Moscow on Nov 8, Li visited the Russian coastal city of St. Petersburg, where he attended the 21st China-Russian Prime Ministers' Regular Meeting with his Russian counterpart Dmitry Medvedev. More than 20 agreements were signed to boost bilateral cooperation in fields such as high-speed railway and nuclear power stations.
A joint statement released after their meeting emphasized further cooperation in major projects, including the 280-seat, wide-body commercial aircraft that is being jointly developed with Russia. The plane will make its first test flight by 2020 and be delivered in 10 years, according to a recent announcement by Commercial Aircraft Corp of China.
"While cooperation between Beijing and Moscow has already yielded fruitful results in various areas, there remains great potential to be tapped in fields such as energy and neighboring areas," Jiang says.
He adds that since China is revitalizing its old industrial bases in the northeast and Russia has a strategy to develop its Far East region, the two countries could work toward interconnection and mutual investment in those areas.
"The two countries could also seek more space for energy cooperation in terms of industrial chains, including investment in energy-related projects and joint exploration of gas and oil," Jiang says.
Contact the writers at huyongqi@chinadaily.com.cn