Li describes New Zealand as a partner in innovation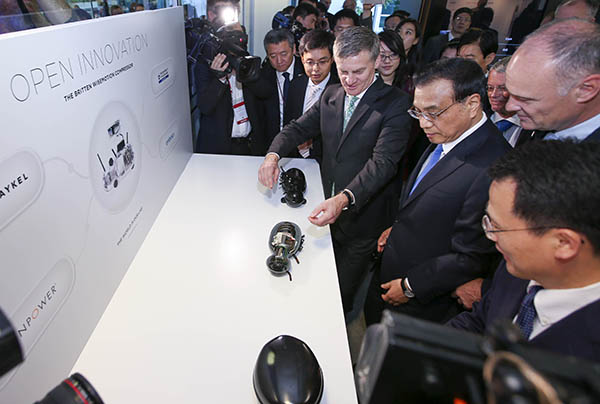 Premier Li Keqiang and New Zealand Prime Minister Bill English (center) visit the research and development center created by Shandong-based Haier Group and local company Fisher & Paykel in Auckland. They were shown compressors and other new products during the visit on Tuesday. [Photo by Liu Zhen/China News Service]
Two nations also to explore working together to enter third-party markets
Premier Li Keqiang, visiting New Zealand, said he expects that China will work more closely with the island nation on innovation and exploring third-party markets for joint prosperity.
Those were among the many ways the two nations plan to ramp up cooperation, as seen in 20 agreements that had been signed as of Tuesday. Li returns to Beijing on Wednesday.
At a banquet on Tuesday in Auckland, New Zealand's biggest city, the premier said he was happy to make his third visit-the first since a 2009 trip when he was vice-premier-and he invited New Zealand Prime Minister Bill English to visit China.
"We support free trade and world peace, which will provide opportunities to improve people's livelihoods in our own countries," Li said in a speech at the event. "And I believe the two countries can work together to bring more welfare to both peoples and send a clear signal of friendship and cooperation to the region and the world."
Chinese-style dragon dancers and Maori warriors had greeted Li and the Chinese delegation to the banquet, which included 500 guests drawn from many parts of New Zealand society.
The most notable accomplishment of Li's trip was the announcement of plans to upgrade the nine-year China-New Zealand free trade agreement, which already is considered to be the highest-level such agreement between China and a developed economy.
Li made reference to Sir Edmund Hillary, a New Zealander who, along with Tenzing Norgay of Nepal, became the first to reach the top of Mount Qomolangma, known as Everest in the West, located on China's border. Li said China-New Zealand cooperation can also reach new heights like the climber did, not only in agriculture but also in other technologies.
"This morning, I visited a joint design center of Chinese producer Haier and a New Zealand company. The center is to manufacture world-leading home appliances for New Zealand, Australia and the global market. It means we can work together to explore third-party markets," Li added.
The center Li and English visited on Tuesday was opened in 2014 by local company Fisher & Paykel and Shandong-based Haier Group to make innovative products. Li encouraged the center's employees to come up with more products to better meet consumer demand after the leaders were shown new compressors made there.
English said the center has created efficient appliances, while other Chinese companies such as e-commerce giant Alibaba Group have helped increase job opportunities in New Zealand.
English noted the fast-growing Chinese economy has helped boost development of New Zealand and Australia. Li visited Canberra and Sydney last week.
Also on Tuesday, Li met with business leaders and New Zealand Governor-General Patsy Reddy.