Anxi's organic Tieguanyin tea exported to global markets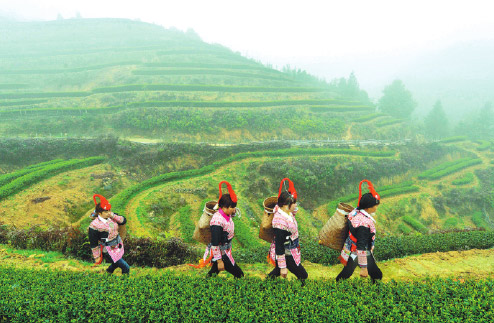 Farmers from the She ethnic group go to a tea plantation in Lianjiang county, Fujian. [Photo by YOU QINGHUI/CHINA DAILY]
Renowned since ancient times for its oolong tea products, Anxi county in East China's Fujian province has seized the fresh opportunities generated by the Belt and Road Initiative to gain a bigger share of the international market.
Anxi started producing Tieguanyin, a premium oolong tea variety, in the 17th century. In 2016, the county exported 16,000 metric tons of oolong tea - one-third of the country's total - to more than 60 countries and regions, including the United States, Japan, Russia and the European Union.
In the first half of this year, the county exported more than 970 tons of tea through the Quanzhou Entry-Exit Inspection and Quarantine Bureau, generating revenue of $9.38 million, doubling the figure during the same period last year, according to bureau statistics.
Anxi has more than 40,000 hectares of tea plantations, with tea output reaching 68,500 tons last year. More than 800,000 local residents are involved in the local tea industry, which generated an annual output value of 14.8 billion yuan ($2.25 billion) and provided 56 percent of the farmers' income in the county.
In September 2010, the inspection and quarantine bureau in Quanzhou - the city which administers Anxi county - helped with the county government to build a national demonstration zone for quality exports and certified organic products.
The move has significantly supported the county's tea exports and increased farmers' incomes, according to local officials.
Anxi was officially named a national demonstration zone for quality oolong tea exports by the General Administration of Quality Supervision and Quarantine in November 2012.
In October 2015, the county was designated a demonstration zone for organic products by the Certification and Accreditation Administration.
At the 2016 China Brand Evaluation Press Conference, held in December, the brand value of Anxi Tieguanyin was estimated at 142.4 billion yuan, topping all the tea brands in China.
"Local farmers' monthly income has grown by 30 percent since the demonstration zone was launched," said Liu Qiuling, general manager of the Songxiangyuan Organic Agricultural Park in Anxi.