Fishery provides new jobs, expansion in West Africa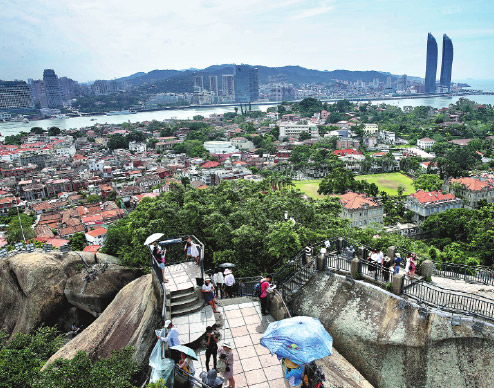 Gulangyu Island in Xiamen, Fujian province, is a world cultural heritage site. [Photo by HU MEIDONG/CHINA DAILY]
Hongdong's operations in Mauritania offer employment opportunities for locals, establish end-to-end supply chain, Chen Meiling reports.
As the operator of China's largest pelagic fishery base, Hongdong Fishery plans to provide another 1,000 jobs in Mauritania next year.
In 2010, the Fujian province-headquartered fishery giant signed a 50-year contract to build a large-scale fishery base in Nouadhibou of Mauritania, a country in West Africa, with a $200 million investment.
"We are not like other companies who just come here, catch all the fish and leave," said Chen Zhongjie, board secretary of the company.
"We look to the long-term sustainable development of the local fishery industry," he said.
The base contains a complete supply chain, including processing, production of fish meal and oil, refrigeration and sale, Chen said.
Mauritania has rich fish resources, with more than 80 species and products, mainly including octopus, cuttlefish and cod, according to Chen.
"However there were only small sailboats and no processing factories before we arrived," he said.
Supportive facilities followed, including auxiliary equipment, refrigeration cabinets, shipyards, ice-making plants and oil depots, helping to form an end-to-end national fishery industry.
Domestic and overseas markets have huge demand for seafood. Many countries are facing the exhaustion of their of shore fishing resources, Chen said.
The company stresses sewage treatment and resource protection, according to Chen, and fish shorter than 70 centimeters will not be caught.
Hongdong's 169 ships can bring in 100,000 metric tons of fish every year, which are then exported to Europe, Africa, Southeast Asia, Japan and South Korea.
Of the company's 2,000 overseas employees, about 1,800 are local people, he said. Their monthly salary is about 2,000 yuan ($303), about 20 percent higher than the local average level, he said.