Leaders shepherd $253.5b in deals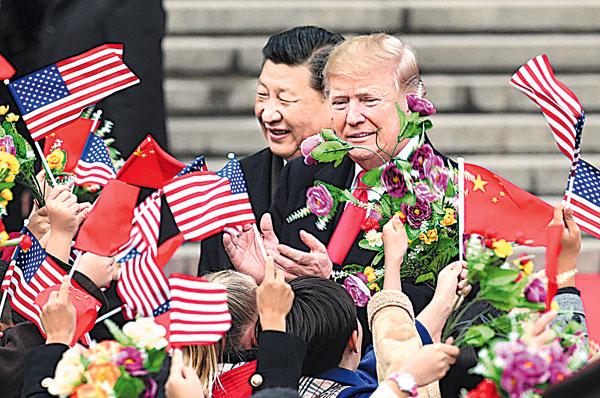 President Xi Jinping holds a grand ceremony to welcome US President Donald Trump at the square outside the East Gate of the Great Hall of the People in Beijing on Thursday. XU JINGXING / CHINA DAILY
President Xi Jinping and his US counterpart Donald Trump witnessed the signing of 15 commercial documents worth of $253.5 billion on Thursday, which was seen as a strong signal of increased trade between the world's two largest economies.
The agreements and memorandums of understanding, signed at the Great Hall of the People in Beijing, included energy deals and the purchase of US-produced chipsets and soybeans. Boeing and China Aviation Supplies Holding signed an agreement for 300 airplanes.
Companies from the two countries agreed to cooperate on a gas project in Alaska worth $43 billion and a shale gas demonstration project valued at $83.7 billion.
After witnessing the signing ceremony, Xi said that there is huge potential for China-US economic and trade cooperation. Saying that the Chinese and US economies are highly complementary, Xi added that China is willing to expand imports of energy products including liquefied natural gas, crude oil and refined oil from the US.
Xi called on the United States to increase exports of civil technologies to China. The Chinese government encourages domestic companies to invest in the US, and US companies are also welcome to participate in the Belt and Road Initiative, he said.
"China will not close its doors and will open even wider," Xi said, adding that foreign companies will find China's market "more open, more transparent and more orderly". The large population remains a bonus of China's economy and Chinese market potential is great, he said.
The three major US automakers — General Motors, Ford and Fiat Chrysler — produced and sold over 5 million vehicles in China last year, more than their total sales in the rest of the world not including the US, Xi said. He said Chinese investment has created more than 140,000 jobs in the United States.
Saying it's natural for the two nations to have trade friction, Xi called on the two sides to properly handle issues using the principle of equality and mutual benefit.
China will firmly stick to reform and opening-up, deepen supply-side structural reform, and put forward practical measures to boost opening-up, Xi pledged.
The prospects for the Chinese economy are bright, Xi said. The country's economy has shifted from high-speed growth to high-quality growth, he said.
Trump spoke highly of the contributions made by businesspeople to the economic cooperation between the two countries, saying that their discussions "provide a critical bridge" between the business communities of both sides.