US Senate Republicans seek to delay corporate tax cut for a year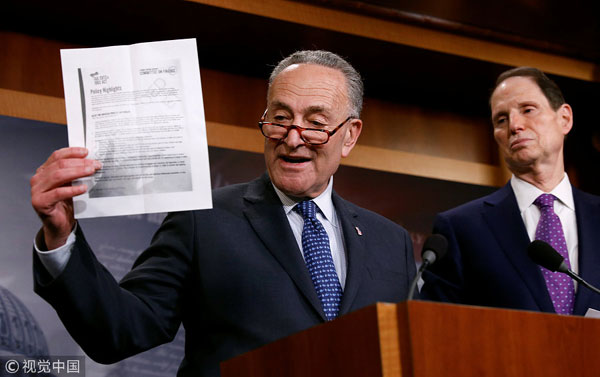 Senate Majority Leader Chuck Schumer (L) and Senator Ron Wyden speak in reaction to the Republican tax plan at the US Capitol in Washington, US, Nov 9, 2017. [Photo/VCG]
WASHINGTON - Republicans in the US Senate on Thursday unveiled their own version of tax reform legislation, which would seek to delay the corporate tax cut for a year and curb other tax reductions.
The Senate Finance Committee, the tax-writing committee, on Thursday unveiled the details of the tax legislation to Republican senators during a closed-door meeting, according to multiple US media reports.
The Senate measure would cut the corporate income tax rate to 20 percent from the current 35 percent, starting from 2019, one year later than the House proposal released last week.
The Senate plan would also keep seven individual income tax brackets and eliminate all state and local tax deductions, while the House version would reduce the number of personal income tax brackets to four and allow taxpayers to deduct some property taxes.
The differences reflected Senate Republicans' greater efforts to satisfy the parameters set by the budget resolution approved by Congress, which would only allow the tax legislation to increase the federal deficit by 1.5 trillion US dollars over 10 years.
The Senate Finance Committee plans to consider the tax legislation next week and send it to the Senate floor for a vote after Thanksgiving.
Meanwhile, the House Ways and Means Committee approved its tax bill on Thursday and would send it to the House floor for consideration as soon as next week.
"The House will pass its bill, the Senate will pass its bill and then we will get together and reconcile the differences, which is the legislative process. And that's how this process will continue," House Speaker Paul Ryan told reporters on Thursday.
It remains unknown whether the two chambers of Congress are able to bridge those differences. The Trump administration and congressional Republican leaders are under pressure to deliver a major legislative victory on tax reform before next year's congressional midterm elections, as they have failed to pass a bill to repeal and replace the controversial Obamacare earlier in the year.